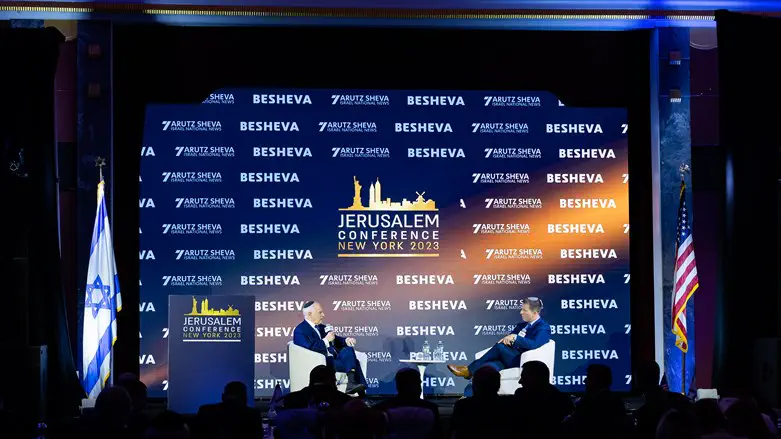 Malcolm Hoenlein at the Jerusalem Conference in New York City
Haim Tuito
Malcolm Hoenlein, Vice Chairman of the Conference of Presidents of Major American Jewish Organizations, spoke to the Israel National News-Arutz Sheva Jerusalem Conference in New York City.
Hoenlein began by addressing Israel's proposed judicial reforms. "I doubt that 1% really know what the issues are involved or what's happening," he commented. "It's a very complicated issue, but I think it's a mistake to bring Israel's inner debates to the US. I wonder what people would say if the right would do the same, in such a parade that unites all Jews. There are serious issues that were lost by the media when covering this, and there is more heat than light."
He also explained how he approaches the subject himself: "When my friends ask me about this, I tell them about the history of judicial activism and that there are people who are not happy about the results of the elections."
Hoenlein also discussed the issue of antisemitism in the United States: "When the president speaks out against antisemitism, it's good. We're trying to get the topic to the main page. We're trying to get every office of the government to be involved in this. They are only shying away from the IHRA definition."
Hoenlein explains what problem that presents: "We're against all racism, but when the vast majority of hate crime is against Jews, we have to address it. Anything that waters down the ability to do so is problematic. We see this in virtually every sector. We see the rage of antisemitism that goes on in universities, some of it cloaked as 'anti-zionism'. The IHRA definition has specific references showing how criticism of Israel is antisemitic. That is why we need not a watered-down version, but the full IHRA definition."
Hoenlein also addressed threats facing Israel itself: "Iran is engaging in an aggressive campaign - building up its naval capacity, its drone capacity, its nuclear capacity. It's not a question of if but when. There is also the matter of building the circle around Israel. They are building up their capacity and we have the obligation to emphasize that."
"I don't think that we're looking at a deal like we saw before, but freeing up money to them that they need to fuel up their terror machines would be a terrible mistake at this time. They should release the prisoners, not for a price, but because these are war crimes and they should be held to account. Any kind of interim measure will send the wrong message to the region will strengthen Iran."
Hoenlein ends on a positive note: "I think the Abraham Accords should be expanded. There is more than one country that could be brought along, including one that could probably be brought along better by not focusing on it publicly - Saudia Arabia. I don't think that the Saudi-Iran deal ends the Sunni-Shi'ite fighting. I believe that we should sustain it, keep it on a low burner, and build it up. We have many Muslim countries in Africa that could be brought along. I think Israel could be the focal point from Morocco to Japan to Korea if the American government gets behind it. You can build economic ties and show people the benefits. We can change the world through this."