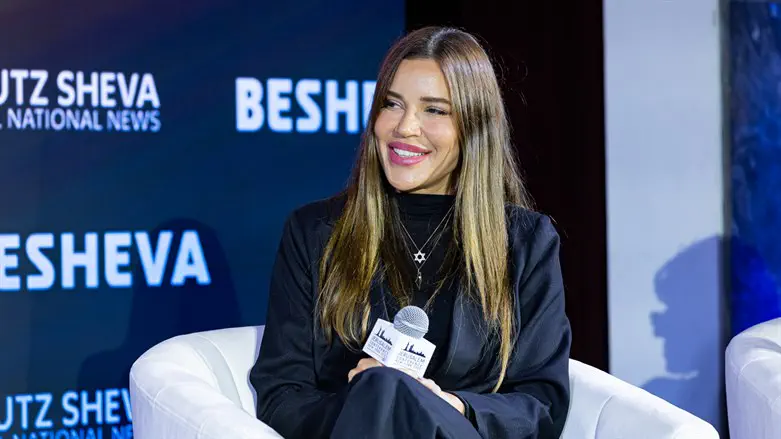 Nataly Dadon at the Jerusalem Conference
Haim Tuito
Nataly Dadon, a social media influencer, model, television personality, and the official representative of the Binyamin Regional Council in Israel spoke to the Israel National News-Arutz Sheva Jerusalem Conference in New York City about her journey to representing Israel.
"I'm originally from the San Francisco Bay area," she reminisces. "When we moved to Israel, we first lived in Herzliya. Later on, we moved to Binyamin. At first, our friends asked us 'Why do you want to go to the hills with those settlers?' We started to open our doors to Israelis and people around the world, and that's how we became activists and that's how I got to my role. I invite delegations to visit us and we tell our story with passion."
"I'm so excited to be here. It's a very big honor for me. You can see in the pictures - I fell in love since the first step I took there," Dadon says, showing a promotional video she made for the Regional Council. "I was literally crying. I felt like all the answers I was looking for are there. I got so many answers there to the mysteries of the Promised Land where it all began. After a couple of times, I decided to bring as many people there as possible."
Dadon explains how she overcame the challenges she face along the way: "I think we need to ask God's advice. As I learn more Torah and learn about my identity, it makes me want to scream the truth louder and tell it to the world. We're all surrounded by a lot of fake news. I used to 'know' that what they showed in the news was the truth, but as I take more responsibility for the information that I'm getting, I gain with it a responsibility to my country. That's what keeps me going, and as long as I know that the truth is with me, that is my mission."
The way to faith, she says, started from television: " I started with the Big Brother and Next Top Model television programs, and each show brought more followers. After that, though, I took my son to a religious kindergarten, and I started to learn more. My followers have changed with me - they've started to see there's something more valuable here.
The internet, Dadon says, is more than just a fantasy world: "When you're authentic on social media, you can't fake it for long, it's a very fake world, people show you only the good things, vacations and all the beauty in life, but we need to know that there's more. We have a responsibility for how we use these tools."