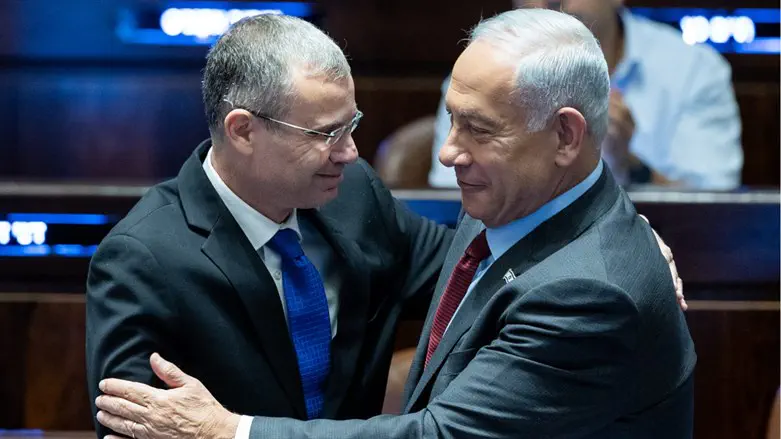 Yariv Levin (L) and Benjamin Netanyahu (R)
Yonatan Sindel/Flash90
Sources in the Likud have clarified that Justice Minister Yariv Levin (Likud) is sending an unambiguous message that if there are no agreements with the opposition before it is time to choose representatives from the Knesset for the Judicial Selection Committee and the Likud does not decide to choose two coalition representatives for the committee, he will resign his position as minister.
Sources in the Likud who spoke with those close to Levin told Maariv that, "He is determined to fight to the end on the issue of choosing judges - even at the cost of bringing down the government."
However, unlike Levin, Israeli Prime Minister Benjamin Netanyahu is not jumping to enter into conflict with the opposition, and is interested in continuing negotiations. On the other hand, Netanyahu is interested in preventing an "explosion" with Levin, and at various opportunities has said that he does not want the Justice Minister to resign.
The Prime Minister's Office said, "Representatives of the coalition are doing everything possible in order to reach agreements in the President's Residence. If there are agreements, there will be one representative of the coalition and one representative of the opposition in the Judicial Selection Committee. Every MK from the coalition or opposition may submit his candidacy until this Wednesday, and retract his candidacy until next Wednesday."
According to the proposed solution, by June 7, the coalition will present a few candidates of its choosing, in order to show that the final decision will be made only close to the secret vote which is scheduled to be held in the Knesset on June 14.
In this way, the sides will gain an additional week for negotiations, while efforts are being made to reach agreements.