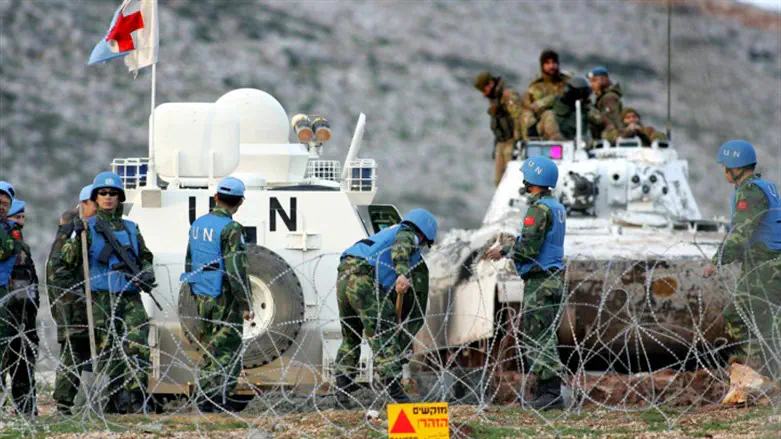 UNIFIL peacekeepers in southern Lebanon
Flash 90
An official with the Hezbollah terrorist organization insisted on Friday there was "no justification" for linking the Lebanese group to an Irish peacekeeper's killing, a day after a judicial official accused five members of the group of an attack last year.
Private Sean Rooney, 23, was killed and three others were injured on December 14 when their UN Interim Force in Lebanon (UNIFIL) vehicle was attacked near the village of Al-Aqbiya, a Hezbollah stronghold in the country's south.
Fadi Sawan, the investigating judge in the military tribunal for the case, on Thursday issued a 30-page indictment accusing five people of "forming a gang to commit a crime" and "intentional homicide", saying they were all Hezbollah members.
The Hezbollah official told AFP on condition of anonymity that "there is no justification for the judicial official to mention the group's name."
The Hezbollah official denied that any members of the group had been involved in the attack, stressing that the indictment does not mention Hezbollah by name.
Hezbollah was "not a party to the problem between local residents and the Irish patrol," the official stressed.
The group "played a major role in easing tensions following the incident. It contacted both the army and UNIFIL, and had a prominent role in encouraging residents to cooperate" with Lebanese authorities, he added.
Mohammad Ayyad, who has been in custody since Hezbollah handed him over to the army in December, was accused along with four others -- who are not in custody -- of "intentional homicide" in Thursday's indictment.
UNIFIL acts as a buffer between Lebanon and Israel and operates near the border. It works to implement Security Council Resolution 1701, which ended the Second Lebanon War in 2006.
According to the resolution, Hezbollah must not be allowed to operate in southern Lebanon and the entire area of southern Lebanon must be free of any armed personnel and weapons other than those of the Government of Lebanon.
UNIFIL peacekeepers have come under attack several times over the years. In June, the UN's mission in Lebanon called for the country's military to guarantee the security of its peacekeepers, alleging personnel were "threatened" by armed men.
In January of 2022, unknown perpetrators attacked a group of UN peacekeepers in southern Lebanon, vandalizing their vehicles and stealing official items from them.
In late 2020, a mob seized equipment from a UNIFIL convoy in south Lebanon after blocking its route.
(Israel National News' North American desk is keeping you updated until the start of Shabbat in New York. The time posted automatically on all Israel National News articles, however, is Israeli time.)