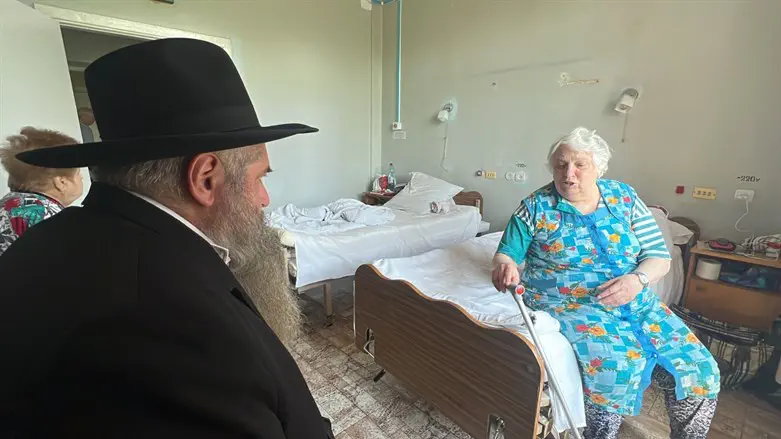 Chupovsky and Rabbi Asman
Spokesperson
The city of Kyiv, Ukraine, has been heavily shelled by Russia over the past week, and on Thursday night, a woman and her young daughter were killed.
Rabbi Moshe Asman, Chief Rabbi of Ukraine, arrived at the scene following the shelling, in order to pay his respects, and to light a candle in their memory. During his visit, Rabbi Asman discovered that in a nearby building which was also hit, there were a number of members of his community.
Among them was Ella Chupovsky, a woman in her 80s, who fortunately suffered only light injuries.
Rabbi Asman came to the hospital to visit the woman, and received updates from the medical staff regarding her condition. He also offered her encouragement and lifted her spirits.
Chupovsky told Rabbi Asman about the miracle which occurred, describing to him that despite the fact that other neighbors suffered much more significant injuries than she did, she was almost uninjured. Another member of the Jewish community thanked Rabbi Asman for his visit, and for the concern the Jewish community had for her, offering food and medicine throughout the entire year.

Rabbi Asman summarized: "The world must stop the war crimes Russia is committing in Ukraine. Innocent people, including the elderly, women, and children, are killed every day for things they did not do."