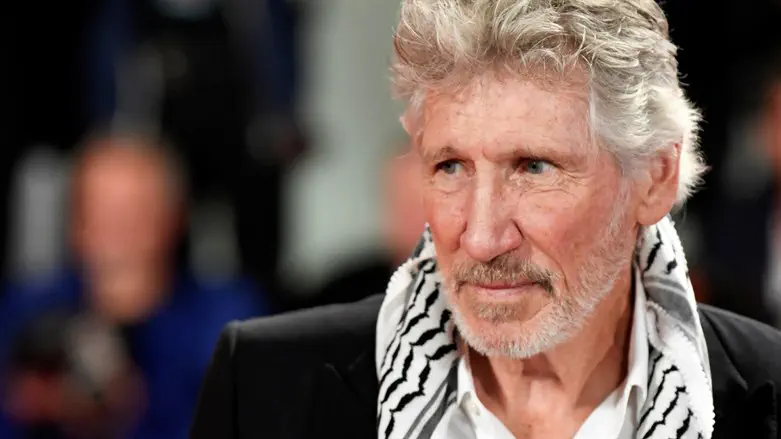 Roger Waters
Reuters
A leading British Jewish advocacy NGO has launched a petition urging venues to cancel upcoming Roger Waters concerts.
The move by Campaign Against Antisemitism (CAA) came after police in Berlin opened a criminal investigation into suspected incitement by the Pink Floyd co-founder following a concert in Berlin in which he dressed in a uniform resembling that of a Nazi officer.
The investigation was launched after Waters wore a long leather jacket and gloves with a Nazi-like red armband, depicting crossed hammers instead of swastikas, during his concert at the Mercedes-Benz Arena on May 17.
During the concert, the singer and bassist also compared Anne Frank to Shireen Abu Aqleh, an Al Jazeera journalist who was shot dead while covering clashes between IDF soldiers and Palestinian Arab terrorists in Jenin last year.
"Roger Waters, the former Pink Floyd musician, has a long history of baiting Jews, which he has now taken to the next level," CAA said. "Venues must not platform his hate."
CAA noted that besides years of hateful comments and antisemitic tropes being stated by the musician – which include offensive pro-BDS and anti-Israel statements as well as referring to the "Jewish lobby" in the music industry, alleging that American politicians were puppets of the late Jewish billionaire Sheldon Adelson, and claiming that the Israel teaches American law enforcement how to "murder the blacks" – Waters also openly attacked the IHRA working definition of antisemitism.
"Mr. Waters openly criticized the International Definition of Antisemitism, complaining that 'It's not just me…they smear anyone, anyone, who dares to suggest there's something bad about their policies. So that's why the [Definition] is so bad, and so dangerous,'" CAA said.
"Taking issue with one of the examples in the Definition, the musician went on to say that the Definition 'can't mean' that the State of Israel should not be criticized for behaving 'like people in the past…towards Jews in Northern Europe.'"
According to the IHRA definition, "Drawing comparisons of contemporary Israeli policy to that of the Nazis is an example of antisemitism."
CAA called on venues to rethink their hosting of Waters for upcoming concerts, given his concerning record on antisemitism.
"Mr. Waters is due to perform on several upcoming dates in the United Kingdom and South America, and regularly embarks on major tours across the United States and Europe," CAA said. "It says something about Roger Waters that he incessantly needs to insist that he is not an antisemite. He has a penchant for breaching the International Definition of Antisemitism, has claimed that antisemitism is used as a 'smear,' and has a long history of baiting Jews."
"That his latest show apparently includes a visual equation of Israelis to Nazis, which extends his record of making such comparisons, is all the more reason for these venues to steer clear of him. Artistic freedom does not justify hate," they added.