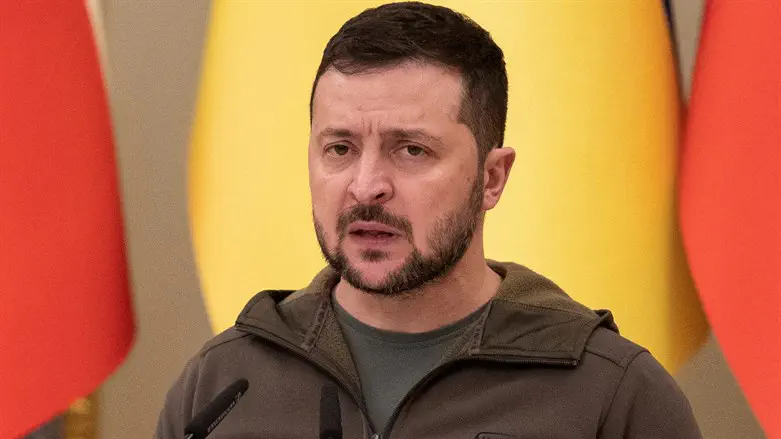 Volodymyr Zelenskyy
REUTERS/Viacheslav Ratynskyi
Ukrainian President Volodymyr Zelenskyy has put forward a bill that would see Ukraine impose sanctions on Iran for 50 years, Zelenskyy's chief of staff Andriy Yermak said on Sunday, according to Reuters.
The move would be a response to Iran's weapons supplies to Moscow for use in the war against Ukraine.
If passed by Ukraine's parliament, the bill would stop Iranian goods from passing through Ukraine and use of its airspace, as well as imposing trade, financial and technology sanctions against Iran and its citizens.
Last year, the US said it had intelligence indicating that Russia is looking to Iran for UAVs.
Later it was reported that Iran had begun training Russians to use its drones, though it was also noted that Russia is experiencing "numerous failures" and technical glitches with the drones it purchased from Iran.
In September, Ukraine reported the first Russian attacks carried out using Iranian-made drones, targeting the south of the country, including the strategic city of Odessa on the Black Sea.
At the start of October, Iranian-made drones were also reportedly used in an attack in the Ukrainian town of Bila Tserkva, southwest of the capital Kyiv.
Last week, Zelenskyy blasted Iran over its supply of drones to Russia, saying Tehran's "support for evil cannot be denied" and appealed directly to Iranians, asking: "Why do you want to be accomplices in Russian terror?"
"Even though we have learned to shoot down most of your kamikaze drones... there are still hits," Zelenskyy said, adding, "When an Iranian drone kills a pregnant Ukrainian girl and her husband in their home, why do you, mothers and fathers in Iran, need this?"
Responding to Zelenskyy's comments on Saturday, Iran's foreign ministry spokesman Nasser Kanani said that the Ukrainian President "repetition of false claims" against the Islamic Republic was "in harmony with the propaganda and media war of the anti-Iranian axis."
"It is done with the aim of attracting as much military and financial aid from Western countries as possible," Kanani said. Ukraine, he added, had "specific political goals and motives behind such accusations" and was "avoiding expert negotiations with the Iranian side to investigate the claims."