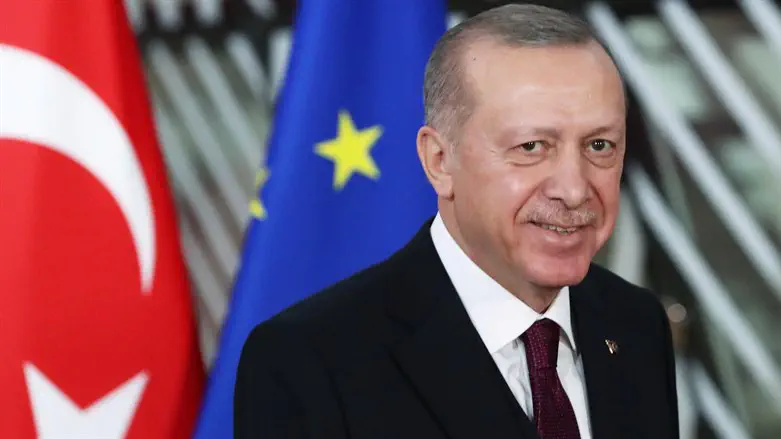 Recep Tayyip Erdogan
Reuters
Turkish President Recep Tayyip Erdogan claimed victory over his reformist opponent, economist Kemal Kılıçdaroğlu, after the polls closed across Turkey Sunday evening.
The Turkish Electoral Body announced Sunday night that with 75.4% of the vote counted, Erdogan leads Kılıçdaroğlu 53.4% to 46.6%.
"We have completed the second round of presidential election with the favour of our nation," Erdogan told supporters in Istanbul. "We will be ruling the country for the coming five years. God willing, we will be deserving of your trust."
Erdogan bested Kılıçdaroğlu, the candidate for the secularist Republican People's Party (CHP), in the first vote on May 14th, but narrowly failed to clear the 50% threshold needed to win outright, sending the country into a second round of voting.
Running at the helm of the right-wing Justice and Development Party, Erdogan received 49.5% of the vote in the first round, compared to 44.89% for Kılıçdaroğlu.
Last week, nationalist third-party candidate Sinan Ogan, who received 5.17% of the vote in the first round, endorsed Erdogan.
The Opposition-affiliated ANKA outlet earlier reported that with 88.8% of the ballot boxes opened, the election is a virtual dead heat, with 50.06% for the incumbent and 49.94 for the challenger.
CHP party spokesperson Faik Oztrak made a public statement Sunday evening responding to Anadolu's reports regarding the vote count.
"We've seen in the past how the results were manipulated by state owned AnadoluAgency, that's why you shouldn't leave the ballot boxes," he said, according to The Guardian.
"As of now, we seem to have received the votes of one out of every two people."
Despite the CHP's refusal to concede thus far, a number of heads of state and heads of government , including Hungarian Prime Minister Viktor Orban, Azerbaijani President Ilham Aliyev, Serbian President Aleksandar Vucic, and Qatari emir Tamim bin Hamad al-Thani offered their congratulations to Erdogan for his reelection Sunday evening.
"Congratulations to President @RTErdogan on his unquestionable election victory," Orban tweeted.
Iranian President Ebrahim Raisi also congratulated Erdogan, calling Sunday's run-off vote "a sign of continued valuable trust of Turkish people."