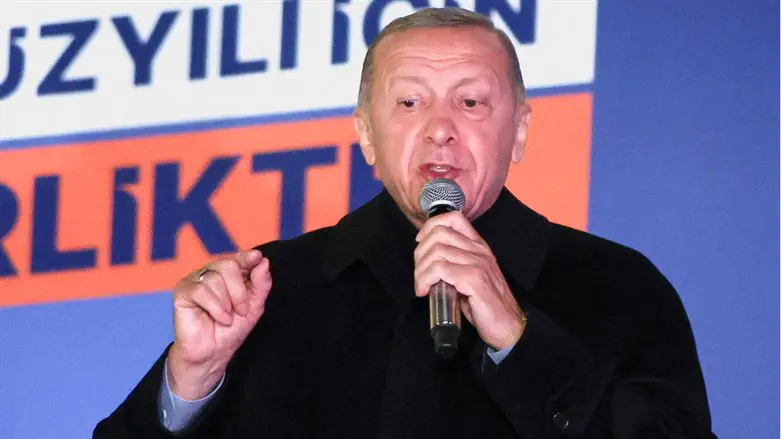 Recep Tayyip Erdogan speaks at AK Party headquarters in Ankara
REUTERS/Umit Bektas
The third-placed contender in the Turkish presidential elections on Monday formally endorsed President Recep Tayyip Erdogan for the second-round runoff vote to be held on May 28, The Associated Press reported.
Nationalist presidential candidate Sinan Ogan, 55, has emerged as a potential kingmaker after neither Erdogan nor his main challenger, opposition leader Kemal Kilicdaroglu, secured the majority needed for a first-round victory on May 14.
Ogan, a former academic who was backed by a far-right anti-migrant party, won 5.17 per cent in the May 14 vote and could hold the key to victory in the runoff now that he's out of the race, according to AP.
His endorsement of Erdogan came days after he held a surprise meeting with the Turkish leader in Istanbul on Friday. No statement was made following the one-hour meeting.
Ogan had attracted votes from people who disapproved of Erdogan's policies but didn't want support Kilicdaroglu, who leads Turkey's center-left, pro-secular main opposition party.
Erdogan received 49.5 per cent of the votes in the first round - just short of the majority needed for an outright victory - compared to Kilicdaroglu's 44.9 per cent.
Erdogan, 69, has governed Turkey as either prime minister or president since 2003. In the run-up to the election, opinion surveys had indicated he narrowly trailed his challenger.
Kilicdaroglu, 74, has the backing of the nation's broadest-ever grouping of opposition parties. He is running on a promise to restore the rule of law, mend strained ties with the West and return to economic orthodoxy.