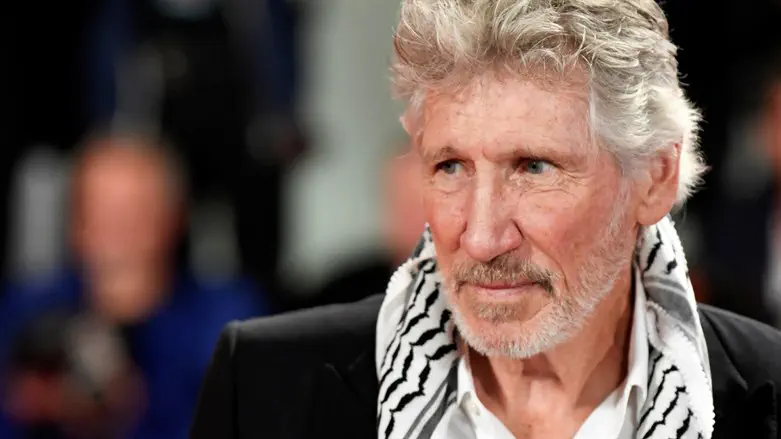 Roger Waters
Reuters
The Simon Wiesenthal Center (SWC) is calling on German authorities to prosecute former Pink Floyd front man and anti-Israel activist Roger Waters after he embraced Holocaust distortion during a recent concert at the Mercedes Benz Stadium.
During the show, the names Anne Frank and Shireen Abu Akleh were projected side by side, drawing an equivalence between the famed teenage Holocaust victim and the Palestinian Arab journalist who was accidentally shot dead while covering an Israeli countet-terrorism operation in Jenin last year. Waters also appeared to dress Nazi-like uniform with an armband and firing a dummy rifle during the concert.
"Shame on Frankfurt authorities and the Mercedes Benz arena in Berlin for providing antisemite Roger Waters this venue for his concert, said Rabbi Abraham Cooper, Associate Dean and Director of Global Social Action at the SWC. "The Jewish community's concerns be damned. So will Germany prosecute Waters for Holocaust distortion or will promoters rush to book the anti-Semite for more lurid 3-D anti-Israel hate fests masquerading as concerts?"
Waters' antics at the concert received widespread condemnation as antisemitic.
The StopAntisemitism organization responded, "This vile Jew-hater also compared the murder of Holocaust victim Anne Frank to the accidental killing of a reporter covering the Israel/Palestinian conflict. How did Germany allow this to happen in 2023?!"
Israel's Foreign Ministry stated: "Good morning to everyone but Roger Waters, who spent the evening in Berlin (yes, Berlin) desecrating the memory of Anne Frank and the six million Jews murdered in the Holocaust."
Waters has gained notoriety in recent years for his obsessive hatred of the State of Israel, accusing the Jewish State of Apartheid and genocide, while defending Russian President Vladimir Putin over Russia's invasion of Ukraine and denying the genocide China is currently committing against the Uyghur Muslims.