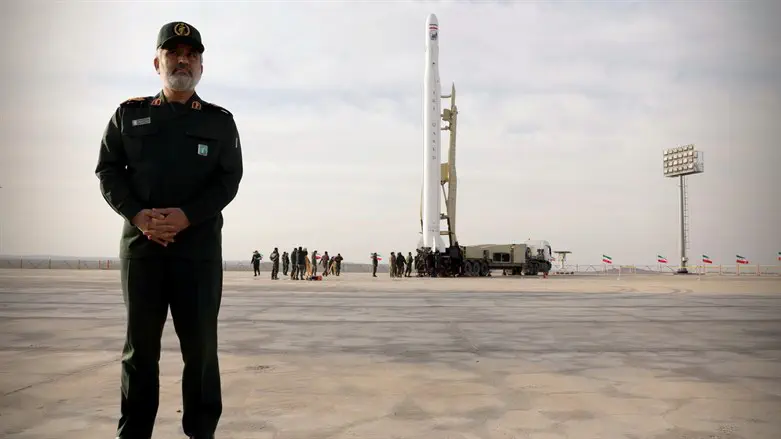 Amirali Hajizadeh, head of the aerospace division of the Revolutionary Guards
Reuters
The British government is facing increasing criticism for its failure to proscribe the Iranian Revolutionary Guard Corps (IRGC) four months after parliament voted for a ban.
The motion calling on the government to ban the IRGC as a terror entity unanimously passed the UK House of Commons in January but has yet to be acted upon by the government.
The resolution was non-binding but it was passed in response to Iran's violent response to anti-government protests using security forces run by the IRGC, the UK Jewish News reported.
The IRGC has been banned by multiple governments, including being listed as a terrorist organization by the United States and Canada.
"It's now been more than four months since the House of Commons passed a resolution universally in favour of proscription of the IRGC," Labour peer Lord Walney said, according to the news outlet. "This is an organization which is committed to armed resistance against Israel, exactly the same grounds on which the government has proscribed Hezbollah."
"Our intelligence services are clear that it is committed to kidnaps and killings on UK soil," he added.
"There must be an argument within government not to do this, so can the minister enlighten the House on what this is, because it seems very obvious that it should be proscribed to many members across both Houses?"
Lord Collins of Highbury, Shadow Deputy Leader of the House of Lords, described the government's response as "not good enough."
"We've had ministers and prime ministers support the objective of banning this organization, which is a threat not only to the citizens of Iran, but also to the citizens in this country… It's about time we acted, rather than just talked," Collins said.
Former Conservative cabinet minister Lord Pickles also slammed the government's inaction.
"We seem to be going around the Houses time and time again. This is an organization that pays for the people that send missiles into Israel into residential areas, use children as human shields, they pay for organizations that have murdered a British mother and her children. What more does the IRGC need to do for the government to proscribe it?" he said.
But Home Office Minister Lord Sharpe of Epsom defended the government's position on the issue.
"The government takes the threat of the IRGC very seriously, and continues to condemn its actions, and the government will always consider the full range of powers available, including our robust anti-terrorism powers such as the proscription tool, where appropriate, to address the threat posed by Iran and the IRGC," he said.
"Over 300 Iranian individuals and entities have been sanctioned for activities which include human rights violations, including 70 since October last year. Other activities would include nuclear proliferation, support to Russia, various other regional activities."
"As an entity, the IRGC was designated in its entirety under the Sanctions and Anti-Money Laundering Act of 2018, more than 30 new designations of IRGC-related organizations and officials have been made by the FCDO since October 2022," he added, noting that the government "does keep the list of proscribed organizations under review."