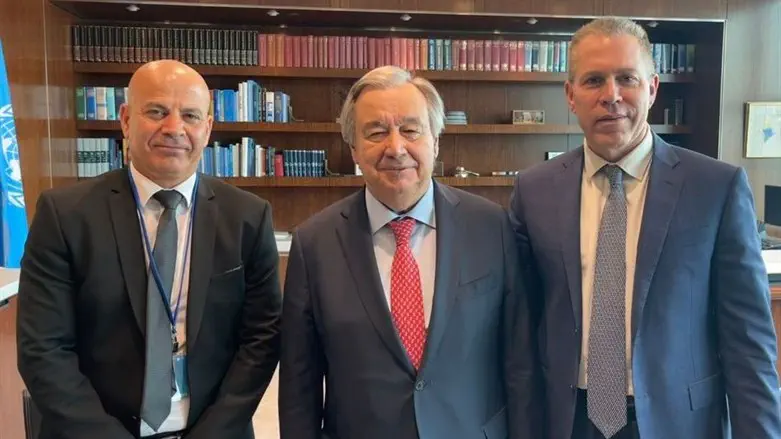 Erdan, Alian, and Guterres
Israeli Mission to the UN
Yesterday, Israel's Ambassador to the United Nations Gilad Erdan and the Coordinator of Government Activities in the Territories Major General Ghassan Alian met with the UN Secretary-General Antonio Guterres and presented him with the distortions in UN data regarding the number of Palestinian Arab casualties resulting from IDF operations. The meeting was held against the backdrop of the expected UN report next month pertaining to the harm of children in conflict zones.
During the meeting, the Secretary-General was presented with current data on the injuries to Palestinian Arab minors as a result of terror organizations' missiles in the Gaza Strip, as well as the distortion in UN reports, which do not include the causes of death of Palestinian Arab minors during acts of terrorism, thereby inflating the numbers and presenting a false picture. The Secretary-General was also provided with examples of the incitement to terror that is rampant within the Palestinian Authority, both on social media and internet networks and in schools, which in turn cause a high level of children and teenagers to be involved in terrorist activities. In addition, the UN Secretary-General was presented with many civil projects that Israel initiates with the aim of improving the living conditions of the Palestinian Arab people, some of which are paused due to the reluctance of the Palestinian Arabs, who are not interested in cooperating with Israel due to foreign political considerations.
Ambassador Erdan said, "The meeting together with the Coordinator of Government Activities in the Territories was important and significant. We presented the Secretary-General with clear data proving that the majority of Palestinian minors killed in the past year were involved in acts of violence and terrorism and this information was omitted from the UN data, along with the fact that terrorist organizations use Palestinian children as human shields and fire missiles and rockets from densely populated areas."
Ambassador Erdan added, "Whoever is responsible for the incitement and recruitment of minors for murder and terrorism is the one who should be included on the blacklist, not the IDF, which is the most moral army in the world."