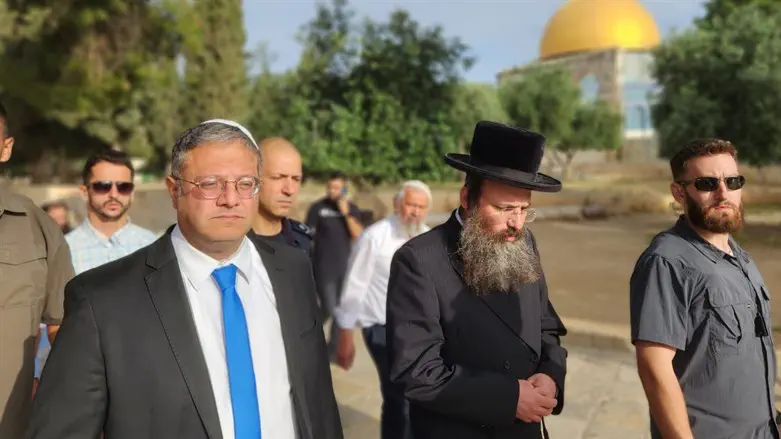 Itamar Ben Gvir visits Temple Mount
Spokesperson
The US State Department on Sunday criticized Israel for allowing Jews to enter the community of Homesh in Samaria.
In a statement, State Department spokesperson Matthew Miller also criticized National Security Minister Itamar Ben Gvir's visit to the Temple Mount on Sunday morning.
"We are deeply troubled by the Israeli government's order that allows its citizens to establish a permanent presence in the Homesh outpost in the northern West Bank, which according to Israeli law was illegally built on private Palestinian land," said Miller.
"This order is inconsistent with both former Prime Minister Sharon's written commitment to the Bush Administration in 2004 and the current Israeli government's commitments to the Biden Administration. Advancing Israeli settlements in the West Bank is an obstacle to the achievement of a two-state solution," he added.
"We are also concerned by today's provocative visit to the Temple Mount/Haram al Sharif in Jerusalem and the accompanying inflammatory rhetoric. This holy space should not be used for political purposes, and we call on all parties to respect its sanctity," continued Miller.
"More broadly, we reaffirm the longstanding US position in support of the historic status quo at Jerusalem's holy sites and underline Jordan's special role as custodian of Muslim holy sites in Jerusalem," the statement concluded.
The statement comes after Yehuda Fuchs, head of the IDF's Central Command, signed an order allowing Israelis to visit the site of the destroyed town of Homesh in northern Samaria.
The order was signed two months after the Knesset passed a law repealing part of the Disengagement Law which forbade Jews from returning to the four northern Samaria communities which were destroyed in the 2005 Disengagement.
Ben Gvir visited the Temple Mount on Sunday morning under heavy police security, in honor of the beginning of the Jewish month of Sivan.
During the visit, Ben Gvir stated, "I am happy to visit the Temple Mount, the most important place to the people of Israel. I must say that the police are doing an amazing job and, again, prove who the boss is in Jerusalem. All of Hamas' threats won't help, we are in charge of Jerusalem and of all of the land of Israel."