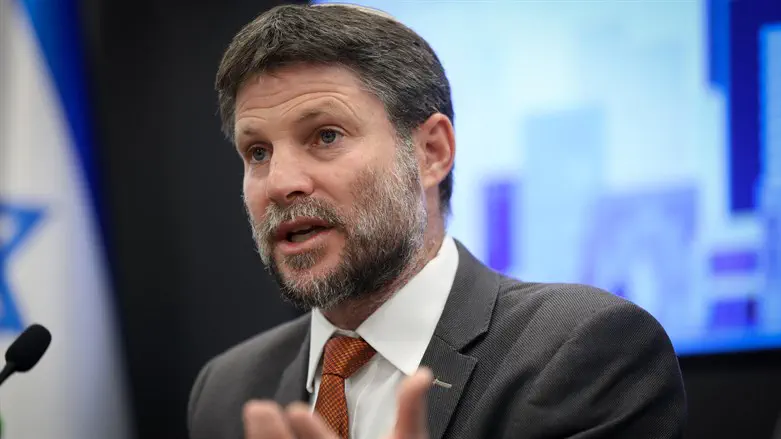 Bezalel Smotrich
Noam Revkin Fenton/Flash90
A new poll showed that if elections were to be held today, the National Unity party would receive seven seats, up two seats from the previous poll.
At the same time, the poll, conducted by Panels Politics for Maariv's weekend paper, showed no difference in the size of the blocs themselves. It also showed that the Labor party (2%) and the Arab Balad party (1.8%) would not pass the electoral threshold.
When asked who is most fit to be prime minister, 42% chose MK Benny Gantz (National Unity), representing a rise since the previous poll (41%). Prime Minister Benjamin Netanyahu, meanwhile, received the support of 38%, similar to last week's result.
According to the poll, if elections were held today, the National Unity party would receive 28 Knesset seats (up from 25 last week), while the Likud would receive 25 seats (down from 27 last week).
Yesh Atid would win 16 seats (down from 17), Shas would win nine (down from 10), and United Torah Judaism would win eight seats, as it did in the previous poll. Religious Zionism, on the other hand, would win seven seats, up from its previous five.
Yisrael Beytenu would retain its six seats, as would the Hadash-Ta'al party. Meretz, however, would win five seats (down from six), and Otzma Yehudit would win five seats (up from four). The United Arab List (Ra'am), would also win five seats (up from four).
Divided into blocs, the poll showed the coalition parties taking 54 seats, compared to the opposition's 66. However, of the opposition's 66, only 60 would be useful in forming a coalition: Hadash-Ta'al traditionally does not join any coalition.
The poll included 513 respondents representative of adult Israeli society. Its error margin stands at 4.3%.