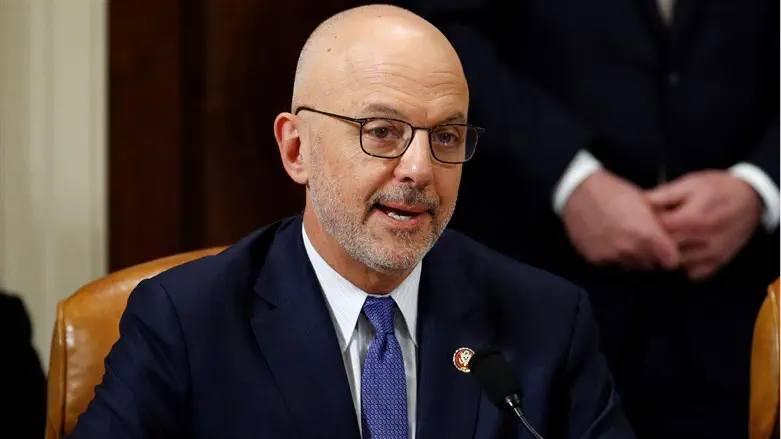 Ted Deutch
Reuters
American Jewish Committee (AJC) CEO Ted Deutch met on Tuesday with Polish Prime Minister Mateusz Morawiecki and other Polish leaders.
The meeting came "at a time when Poland has moved to strengthen its ties with Israel," according to the AJC.
Deutch and Morawiecki discussed Poland's leading role in providing ongoing military and economic aid to Ukraine from where an estimated 10 million people fled to Poland following the Russian invasion last year.
"Poland continues to show a willingness to meaningfully engage with the Jewish community and Israel," Deutch said. "And its support of Ukraine and refugees has been nothing less than inspiring."
Deutch was joined on the trip by his predecessor, David Harris, who made dozens of trips to Poland in his 32 years as the leader of AJC.
AJC noted that it has played a "crucial role in enhancing the relationship between Israel and Poland."
In 2018, Israel expressed concerns regarding a Polish law that initially criminalized accusations of Polish state complicity in the Holocaust. However, the law was later revised, making such accusations a civil offense instead. Polish Prime Minister Morawiecki worked alongside Israeli Prime Minister Benjamin Netanyahu to address these differences, resulting in a joint statement emphasizing that the term "Polish concentration/death camps" was categorically incorrect.
More recently, Poland and Israel were in a diplomatic dispute over a Polish law that sharply limited restitution claims for property seized by the Communist government, including from Holocaust survivors and their families.
"While that law remains in force, both countries resolved to work together last year to ease tensions," the ACJ added.
"One by-product of that dialogue is an agreement with Israel to resume Holocaust study visits by Israeli students. Israel had suspended these trips due to concerns that Poland was interfering with the content of the program."
Deutch and the delegation also met with Donald Tusk, leader of the main opposition party Civic Platform, and Speaker of the Senate Tomasz Grodzki. Tusk, who served as Poland's prime minister from 2007-2014, was also president of the European Council from 2014-2019.