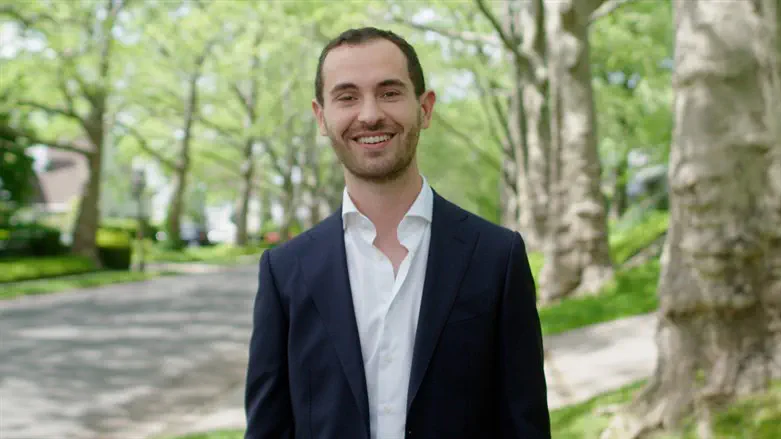 Zak Malamed, 29, is running to unseat Republican Rep. George Santos.
Courtesy
(New York Jewish Week) — The founder of a Democratic fundraising group is the latest Jewish candidate to run for the seat held by Rep. George Santos, the Republican congressman arrested on federal criminal charges last week.
Zak Malamed, 29, said he was spurred to run by Santos' election last year and, in particular, bristled at revelations that Santos had falsely claimed to be Jewish.
"He is an extreme MAGA Republican who doesn't take antisemitism seriously, makes a mockery of our Jewish faith," Malamed told the New York Jewish Week. He added that the way Santos "uses the history that many of us carry, with relatives who are victims or escaped the Holocaust, is astounding."
Malamed announced Monday that he will run for the Democratic nomination in Santos' New York district, which covers parts of Queens and Long Island. He is the third Jewish Democratic candidate to declare candidacy for the seat held by Santos, following former Democratic state senator Anna Kaplan, an Iranian-American who has long championed Holocaust education; and Josh Lafazan, a Jewish Nassau County legislator. Democratic attorney Will Murphy is also running, as is one Republican, former J.P. Morgan executive Kellen Curry.
Malamed, who grew up in Great Neck, a Long Island town in the district, cofounded a Democratic fundraising organization called "The Next 50″ that according to its website focuses on "building a leadership pipeline of justice and equity-minded leaders that will counter conservatives' massive 50-year investment in young leaders." One of its endorsees in next year's races is Elissa Slotkin, the Jewish centrist Democratic congresswoman from Michigan who is now running for Senate.
Malamed said he hopes to bring integrity back to the district, particularly after Santos was charged last week with illicitly collecting unemployment assistance while earning a six-figure salary. The congressman — whom Malamed called "an international embarrassment" — has pleaded not guilty.
In addition to falsely claiming to be Jewish, Santos has spread a series of other falsehoods about his background. He has largely rejected fact-checking by news organizations from around the world, in the case of his ancestry saying he never claimed to be Jewish, calling himself "Jew-ish." In a recording of the congressman posted to Twitter last week by MSNBC host Ari Melber, Santos can be heard saying, "If you sit in a room with a lot of Jews, you're f—ed."
Malamed grew up in Santos' district and identifies as a Conservative Jew. He said his family has belonged to Temple Israel in Great Neck for more than 60 years.
"It's where I went to preschool," Malamed said. "It's where I went to Hebrew school, and of course, I was bar mitzvahed here. … I maintain this deep connection and care for not just the community that raised me, but the Jewish community that raised me."
As a high schooler, Malamed launched a group focused on elevating student voices in education policy making. He subsequently graduated from the University of Maryland and worked for the 2020 presidential campaign of Michael Bloomberg, the former New York City mayor and billionaire media mogul, according to his LinkedIn profile. He previously worked at Facebook and at XQ, an education policy initiative founded by philanthropist Laurene Powell Jobs.
Malamed said he maintains "a commitment toward investing in others and elevating others' leadership" and emphasized that the idea of running for office "didn't even enter my mind [until] after Santos won."
"It's when I took stock of the field and realized that Democrats up and down the ballots have been rejected over the past couple of years, and have not found a way to break through and defeat MAGA Republicans," he said.
Malamed said if elected, he would support Israel, a stance he attributed to the influence of his grandmother, who emigrated from Russia to Israel before moving to Great Neck in the late 1960s.
"My grandmother was in Israel the day its independence was declared by the United Nations," Malamed said, referring to the 1947 U.N. vote approving a partition of Mandatory Palestine into separate Jewish and Arab states. "I think it's important to bring next-generation leadership that's committed to being proudly Jewish, unabashedly supportive of the state of Israel, and also committed to peace."