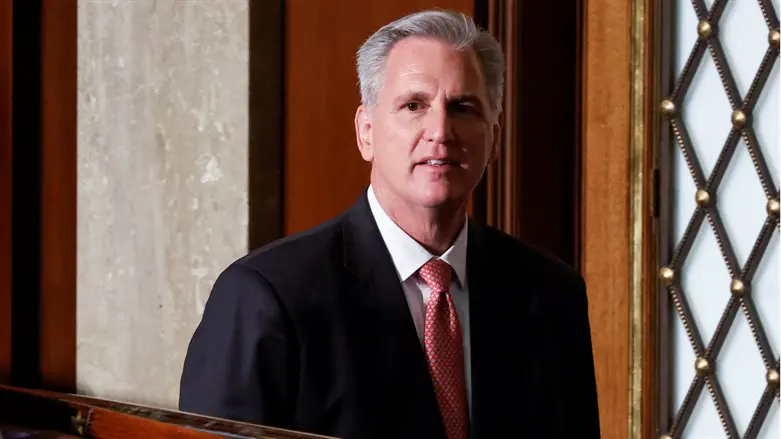 Kevin McCarthy
REUTERS/Jonathan Ernst
House Speaker Kevin McCarthy said on Wednesday he will not support Rep. George Santos in his reelection bid after the congressman was charged in a 13-count indictment over alleged financial crimes, The Hill reports.
"No, I'm not going to support him," McCarthy was quoted as having told CNN's Manu Raju.
Raju asked McCarthy if he would try to help defeat Santos, who has said that he plans to still run for reelection in 2024 despite the charges he is facing, in a GOP primary. McCarthy responded that he believes Santos "has a lot going on" and "has other things to focus on in his life" than running for reelection.
Santos earlier on Wednesday pleaded not guilty to charges he duped donors, stole from his campaign and lied to Congress about being a millionaire, all while cheating to collect unemployment benefits he didn't deserve.
Santos, 34, was released on $500,000 bond following his arraignment, about five hours after turning himself in to face charges of wire fraud, money laundering, theft of public funds and making false statements to Congress.
A New York prosecutor launched an investigation against Santos in late December after he admitted to "embellishing" his resume.
Later, the US House Ethics Committee announced that it would investigate Santos over allegations that he lied extensively about his background and violated campaign finance laws.
McCarthy's comments mark the furthest that the Speaker has gone in opposing Santos's continued service in the House.
He said in February that he would have "difficulty" supporting Santos after the revelations about him.
After Wednesday's hearing, Santos said wouldn't drop his reelection bid and defied calls to resign.
"This is the beginning of the ability for me to address and defend myself," he told reporters outside a Long Island federal courthouse. He said he's been cooperating with the investigation and vowed to fight the prosecution, which he labeled a "witch hunt."