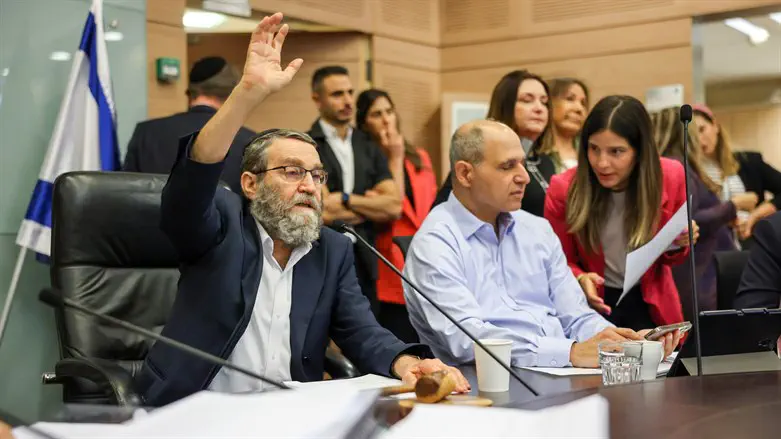 Knesset Finance Committee chairman MK Moshe Gafni
Noam Moskowitz/Knesset spokesperson
The Knesset Finance Committee on Monday evening approved for its second and third readings the so-called "Arnona Fund" bill. The legislation will be brought for Knesset approval next week as part of the Arrangements Law.
The fund would require municipalities to set aside 10-28% of the funds raised from property taxes collected from businesses for the promotion of construction in poorer communities such as periphery communities.
The fund would also encourage residential construction, as opposed to the current situation, which favors the construction of businesses and industrial areas due to the high property taxes businesses pay.
Dozens of authorities, including cities and local councils, began a strike on Monday, suspending all municipal services, including the education system, as part of the protest by local governments against the legislation.
Finance Minister Bezalel Smotrich said following the approval of the legislation in the committee, "I want to thank the chairman of the committee, MK Rabbi Moshe Gafni, for leading the legislative process with great wisdom and determination, the chairman of the coalition, MK Ofir Katz, who led the agreements wisely and courageously, and my friends in the coalition who stood up to pressure."
"This law is great news for the citizens of Israel. We are taking care of the cost of housing from the root, not by applying band-aids.This fund will stimulate the construction of apartments, increase the supply and lower housing prices.We will continue to fight the cost of housing and the cost of living and strengthen Israel's economy and take care of all Israeli citizens," added Smotrich.
"Finally, I would like to thank the chairman of the Federation of Local Authorities, Haim Bibas, who negotiated with us and reached agreements with us. The conversation with him improved this law.I understand that several heads of authorities forced him to retract [his support for the law], but I am not angry with him and I thank him.The truth must be told, Haim Bibbs is a full partner in the formulation of this law," stated Smotrich.