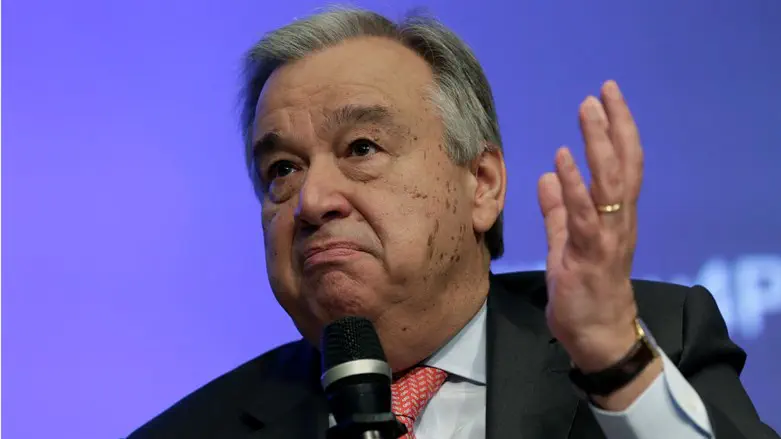 Antonio Guterres
Reuters
UN Secretary-General Antonio Guterres on Wednesday called for "maximum restraint" after terrorists from the Gaza Strip fired hundreds of rockets towards Israel.
"The Secretary-General is following with deep concern the latest security developments in Gaza, and the ongoing escalation and risk of further loss of life," said Farhan Haq, Deputy Spokesperson for the UN chief.
"The Secretary-General condemns the civilian loss of life, including that of children and women, which he views as unacceptable and must stop immediately," he added. "Israel must abide by its obligations under international humanitarian law, including the proportional use of force and taking all feasible precautions to spare civilians and civilian objects in the conduct of military operations."
The statement noted that Guterres "also condemns the indiscriminate launching of rockets from Gaza into Israel, which violates international humanitarian law and puts at risk both Palestinian and Israeli civilians."
"The Secretary-General urges all parties concerned to exercise maximum restraint and to work to stop hostilities immediately. He reiterates his commitment to supporting Palestinians and Israelis to resolve the conflict on the basis of relevant United Nations resolutions, international law and bilateral agreements," concluded the statement.
The IDF said earlier on Wednesday that, as of 9:30 p.m., a total of 469 rockets had been fired from the Gaza Strip towards Israeli territory, of which 133 crossed into Israeli territory, 107 failed to reach their target and 153 were intercepted.
Additional barrages of rockets were fired at communities in southern and central Israel even after Egyptian media reported that Egypt had brokered a ceasefire agreement between Israel and the terrorist organizations and the Gaza Strip and that it had already gone into effect.
Israeli officials have acknowledged that contacts have been made with the Egyptian government on the possibility of a ceasefire, but have not acknowledged that any agreement has been reached.
At least 270 rockets were fired at Israel on Wednesday afternoon before the reports of a ceasefire.