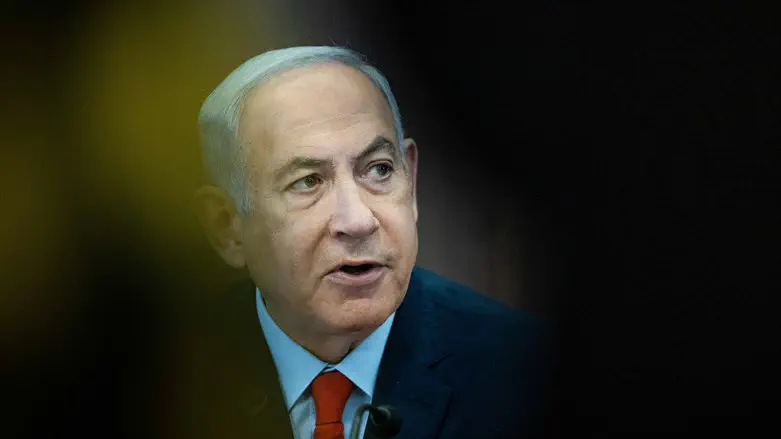 Benjamin Netanyahu
Yonatan Sindel/Flash90
Prime Minister Benjamin Netanyahu praised the IDF and government's performance during Operation Shield and Arrow last week at the start of the weekly Likud faction meeting this afternoon (Monday).
"I came now from Ashkelon. I was at the marina and I met happy, smiling and happy people, who are sitting in the cafes and supporting the government's determined fight against terrorism. Earlier I was at Jacqueline's house. A single mother, she has a son with special needs. She can't get to a protected area when necessary because she doesn't have one. We must take care of this protection and we will change the equation of protection. The government has taken it upon itself to supply protective areas and to evacuate buildings," Netanyahu said.
He stated: "Something has changed. We came to change the deterrence equation and not for the first time. The most significant change in the balance of deterrence took place two years ago in Operation Guardian of the Walls. Since Guardian of the Walls, Hamas has not fired a single rocket into our territory. They are deterred. Operation Guardian of the Walls dealt Hamas the hardest blow in its history and caused a change in the deterrence equation and it has been working for two years now."
"Our intention in Operation Shield and Arrow was to change the balance of deterrence against Islamic Jihad. The difference comes not only because of the targeted assassinations that we have been doing for the 16 years that I have been prime minister but that we did so so calmly and effectively. We took down half of Islamic Jihad's leadership in a surprise blow, and the other half during the operation. The message was delivered not only in Gaza, but all around. Whoever harms us or plans to harm us knows the meaning of 'his blood is on his own head.' We are changing the balance of deterrence," Netanyahu said.
The Prime Minister also declared that the annual Jerusalem Day Flag March will "take place as usual" this Thursday.