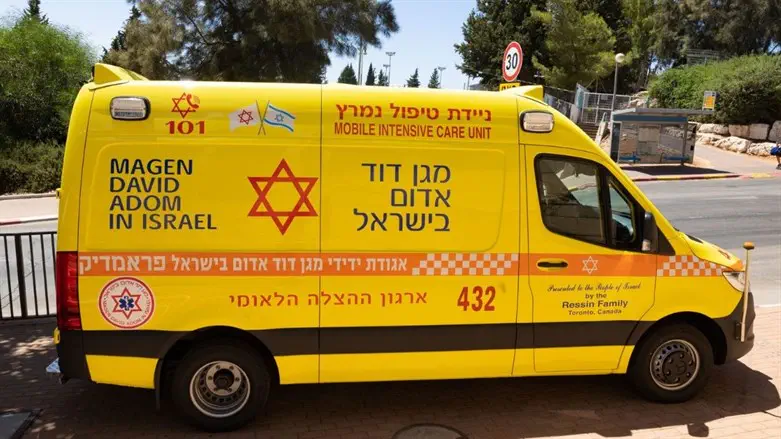 MDA bullet-proof Mobile Intensive Care Unit donated by Prof. Marat Ressin
Magen David Adom
Magen David Adom – Israel's National Emergency Medical Organization, is operating in full coordination with the IDF, Home Front Command, the Police, Fire Fighters and all the security authorities, the organization announced. At the end of a situational evaluation conducted yesterday by the MDA Director General, the level of alert of the organization was elevated to the highest level, and MDA teams, reinforced with thousands of volunteers are manning in full all the MDA lifesaving vehicles throw-out the country.
MDA Blood Services are operating in sheltered areas, continuing to check, and prepare the blood units for shipment to the hospitals. MDA calls the public to come and donate blood at MDA blood drive locations, operating according to the Home Front Command guidelines, in order to maintain a regular flow of supply to the hospitals, especially at this time.
MDA asked the public to follow carefully the Home Front Command guidelines, noting that these guideline save lives.
At any need for medical assistance, to call Magen David Adom – dial 101.
Eli Bin, MDA Director General, said: "MDA team members are working in full deployment, manning all of MDA lifesaving vehicles throughout the country. We are providing and will continue to provide the necessary response to each incident and to any call for assistance. MDA teams, alongside with the security forces have reached to all the sights damaged by rockets and are providing the necessary care – up to this time without any direct physical injuries. I call the public to act according to the Home Front Command guidelines – and at the designated places – to stay close to a shelter. If an incident occurs, call MDA 101 emergency phone number and report in real time. At this time we call the public to come and donate blood – especially o- & o+ blood types; we need you now more than ever."