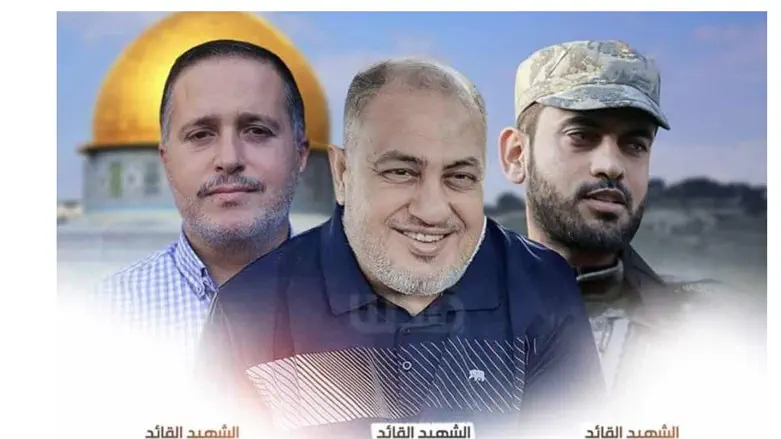 IJ commanders eliminated by IAF
Alma
Operation Shield and Arrow against Palestinian Islamic Jihad (PIJ) began on May 09 and ended on May 13, 2023. The operation was a response to PIJ's firing of 104 rockets toward southern Israel on May 02 and 03. PIJ opened fire following the death of its hunger-striking security prisoner, Khader Adnan, who was considered a prominent PIJ figure in the 'West Bank'. Adnan starved himself to death during a hunger strike that lasted 86 days.

PIJ, backed by Hamas, began firing rockets at Israeli communities bordering Gaza in the afternoon hours (when children leave schools for home).

The rocket barrages lasted around 24 hours, during which, as we noted, 104 rockets were fired at Israel. On May 9, upon the start of the operation, Israel simultaneously eliminated three senior PIJ commanders:

Khalil Bhatini, commander of PIJ's Northern Gaza Division, Tarek Az al-Din, who was responsible for directing PIJ's operations in the 'West Bank'. And Jahed Ahnam, secretary of PIJ's Military Council.
In Gaza, according to Palestinian Arab sources, 33 people were killed throughout the operation. Seventeen military operatives of the PIJ were killed, including six senior members. 3 Palestinian Arab civilian fatalities (of which three were children) occurred due to a PIJ rocket misfiring within a built-up area in the Gaza Strip (291 rocket launches failed and fell within the Strip).

At least four operatives from other organizations (such as the Democratic Front for the Liberation of Palestine) taking part in the fighting were killed. So at least two-thirds of all fatalities were terrorist combatants or civilians killed due to PIJ's activities.

In Israel, two civilians were killed in the conflict – an Israeli woman killed by a rocket strike on a residential building in the city of Rehovot, and a Gazan man, working in Israel who was killed by a rocket attack on the western Negev. His brother, also a worker, was wounded.

Gazan terrorists fired 1469 rockets and mortar shells at Israeli territory during the five days of the operation. Of those, 1139 crossed into Israeli territory. The Iron Dome air defense system shot down 437 rockets, while David's Sling intercepted two.

The Iron Dome's success rate is higher than 95 percent.
Iranian involvement
Iran has been building proxy militia forces across the Middle East in recent years. In recent months, especially during Ramadan and the Iranian Quds Day (the last Friday of each Ramadan), Iran has aggressively marketed the narrative of the 'joint operations room' and the unity of arenas, involving all factions that fight against Israel.
The assessment that Israel will have to deal with several fronts has grown stronger.
Initial responses to the operation in Gaza from Hezbollah, Hamas, the Houthis, the Shi'ite militias, and the leadership of PIJ in Syria and Lebanon also included the 'unity of arenas' narrative.
However, as the hours passed by and the response by PIJ to the IDF's opening strike became delayed, it became clear that it is not so easy for Iran to implement its multi-front vision against Israel.
The sense of solidarity that Hezbollah chief Hassan Nasrallah tried to push in his May 12 speech amounted to mere words. Clearly, he is not interested in threatening Israel with war for someone else's interests. It is worth recalling that last summer, Hezbollah threatened war if no agreement would be reached over the maritime border that would allow Lebanon to extract natural gas from the Mediterranean Sea.
The current escalation revealed that Iran's "multiple fronts" vision is not so easy to fulfill and that the Iranians will have to generate an interest for each player to harness it for war against Israel.
Shiite Axis operations room
Alma
Following the elimination of PIJ's senior command by Israel (six senior operatives in total), the organization's leadership abroad took over the decision-making. This leadership, located mainly in Syria, is in close contact with Iran and is heavily influenced by it – and less influenced by the mediator – Egypt (PIJ is fully funded by Iran to the tune of tens of millions of dollars a year).
Iran's annual terror budget
Alma
This time it was clear that PIJ operatives fighting in the field wanted to reach a ceasefire – But behind the scenes, as the hours went by, Iranians exerted heavy pressure to continue launching rockets into Israel.
As we have always said – the Iranians will fight against Israel until the last Palestinian Arab. They have no real interest in promoting the Palestinian issue or caring for Palestinian Arabs.
In practice, at the time of this writing, a ceasefire was officially announced. There has been a decrease in the level of alert within Israel and guidelines for the civilian population are a return to normal routine.
The parties agreed not to agree, and there is no commitment by any side not to renew the fire (this is a critical issue ahead of Israeli Jerusalem Day which starts on May 18).
At the time of writing these words, another rocket was launched from Gaza and IDF attacked in retaliation.
Iron Dome
The system demonstrated a very impressive level of performance. The fact that in between sirens, people in central cities could go to the beach, to a concert, to a shopping center, or to a restaurant is far from being a given.
In southern Israel, things were more complex, as the alarms were very frequent. Yet, the small amount of physical damage sustained on the home front contributed greatly to the resilience of Israeli society.
IDF capabilities
The operation exhibited a very high intelligence and operational capability by the IDF and the Shin Bet, a capability that has greatly improved compared to previous operations.
During the operation, there was a minimal level of collateral damage, as launching squads and rocket launchers were eliminated accurately to protect Israeli citizens.
Iron Dome combined with the precise and impressive IDF attack capabilities enabled a change in Israeli strategy, enabling both deterrence against PIJ and the need to maintain international legitimacy for the operation.
The IDF carefully selected targets for the operation – The elimination of PIJ commanders, hitting the homes of operatives, striking launch squads, and striking production sites and launchers.
All of this occurred with astonishing precision, backed by many videos showing how terrorist organizations in Gaza use civilians as human shields. This is a very important message.
The resilience of the Israeli home front allows the IDF to surgically attack the PIJ over time and patiently, with lesser harm to noncombatants that could have led to the delegitimization of the Israeli operation in the world.
The effectiveness of human shielding tactics
Here it is important to clarify – international law permits a degree of collateral damage under certain conditions, which include the principle of proportionality and warning the population as long as this does not impair operational achievements.
This operation demonstrated that the human shield tactic will not be effective in the service of terrorist organizations, regarding the homes of operatives and their families and embedding military infrastructure of terror factions among civilians.
To prevent millions of Israelis from running to shelters every week or several times a day under the threat of tens of thousands of rockets, Israel must fight resolutely and neutralize the human shield tactics.
This can be done with minimal harm to noncombatants. By the way, it is worth stressing that any such targets attacked underwent close examination by legal advisors and the highest decision-making echelons in Israel.
Subsequently, what has happened in Gaza in recent days is visible to Nasrallah in Lebanon and to Iranian proxy militias commanders in other places in the Middle East.
This can contribute to Nasrallah's array of considerations regarding both the 'unity of arenas' and the use of human shields. The implications are clear for the security of Nasrallah's operatives who hide under the beds of women and children and Hezbollah's military infrastructure located within civilian population centers.
The operation in Gaza has highlighted an important message: Subject to international law, human shielding tactics will not make their terrorist commanders and military infrastructure immune to harm.
Rocket launching pite PIJ
Alma
What about Hamas?
Israel now faces a dilemma – How to deal with Hamas? Until this moment, it was easy to differentiate between Hamas and the PIJ and to focus on the recent operations against PIJ.
However, in practice, a different picture begins to emerge, as Dr. Michael Milstein, a Hamas expert, pointed out – "Hamas may be using the PIJ. The differentiation Israel makes between them does not really produce quietness".
Hamas promotes terrorism in the 'West Bank', allows PIJ to operate from Gaza without extracting prices from it, and provides passive aid for the rocket launchings.
Israel continues to allow the transfer of funds from Qatar to Gaza, allowing for the opening of the crossings to truck traffic carrying goods and the passage of tens of thousands of Gazan residents to Israel. All of this does not bring quiet because Hamas seemingly fails to control PIJ.
This is a very convenient situation for Hamas. Just as it became very clear in Lebanon that the Lebanese government cannot be separated from Hezbollah (who is a member of the Lebanese government), it is time to internalize the reality that Hamas cannot truly be separated from PIJ, even if they are two separate organizations. Their differentiation serves Hamas more than it does Israel.
The Alma Research and Education Centeris a non-profit (501c3) and bipartisan organization with the mission of making in-depth geopolitical knowledge about the Middle East accessible to English speakers.
Lieutenant Colonel (Res.) Sarit Zehavi is the founder and president of Alma. Tal Beeri is head of the Alma Center Research Department and a Middle East expert specializing in Hezbollah , Lebanon and Syria.