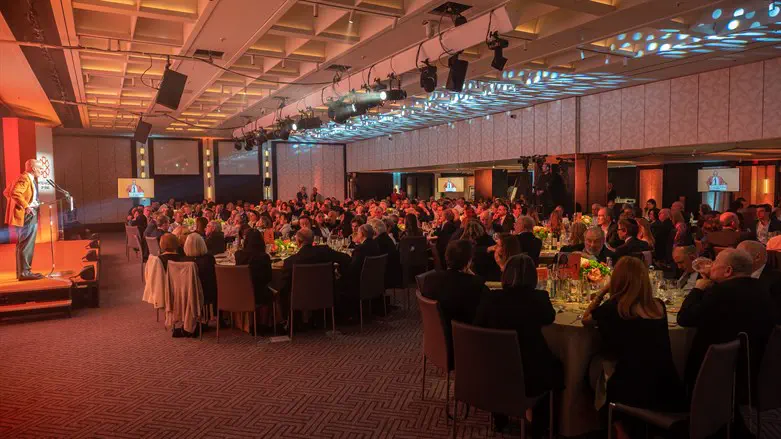 Chairman of United Hatzalah Mark Gerso ... the crowd at the dinner in London
Jeremy Colman
On Monday night, British Friends of United Hatzalah held its annual dinner at Nobu Hotel in London, bringing together 300 distinguished attendees in support of the lifesaving efforts of the Israeli EMS organization's volunteers.
The event was highly successful, raising £630,000 ($786,000) which will contribute to the establishment of the organization's Southern Regional Command Center in Sderot, Israel. This new bomb-proof command center will include a backup dispatch center, a volunteer hub, a medical supply and equipment base, volunteer sleeping facilities, regional offices, and other essential resources for helping to run EMS operations in Israel's southern district, even amid times of conflict such as was experienced during last week's rocket barrage from Gaza.
The atmosphere during the event was both solemn and inspiring. Attendees watched footage of live-action emergency response during the recent round of fighting in the south of Israel and saw first-hand how United Hatzalah volunteers tirelessly and courageously respond to medical emergencies even under fire, including direct rocket hits. The attendees were able to see just how vital their assistance in support of those providing medical care in the midst of ongoing hostilities actually is.
President and Founder of United Hatzalah, Eli Beer, addressed the audience and emphasized the significance of the Regional Command Center and its potential to save lives.
Beer stated, "In the recent round of fighting, we witnessed hundreds of rockets fired towards the south, and United Hatzalah volunteers from around the country came to the south to be deployed as reinforcements to the region."
"They used the city of Sderot as a hub to gather and receive equipment, but our current facilities there are inadequate for such an influx of personnel. Our dedicated volunteers not only responded to rocket attacks but also continued to handle routine emergencies while under fire. It is evident to us that we require a more suitable command center in the south to efficiently manage and coordinate these crucial operations.
"We are deeply grateful for the incredible partnership that has formed between United Hatzalah and this remarkable community here in England."
The dinner featured inspiring speeches from volunteer EMTs Rachel Chuna and Galina Asher, both of whom are originally from the United Kingdom. Their personal stories underscored the global impact and interconnectedness of United Hatzalah's lifesaving mission.
Rishi Khosla, CEO and co-founder of OakNorth, the evening's sponsor, shared a heartfelt testimonial, recounting how Eli Beer had saved his father's life even before they had met.
Beer announced that in addition to the amount raised at the event, the Gerald and Gail Ronson Family Foundation would contribute a third of the $9 million needed to construct the Southern Command Center, which is expected to be completed by 2025. The Command Center in Sderot will be named after the Ronson Family, in recognition of their generous contribution and ongoing support to United Hatzalah.
Chairman of United Hatzalah Mark Gerson summarized the event by saying: "United Hatzalah volunteers save on average 150 people every day. There is no better return on investment in philanthropy than saving a life."
From right :VP of UH Michael Brown, Chairman of British Friends of UH Neil Blair, President of UH Eli Beer, and Director of British Friends of UH Assaf Admoni
Jeremy Colman