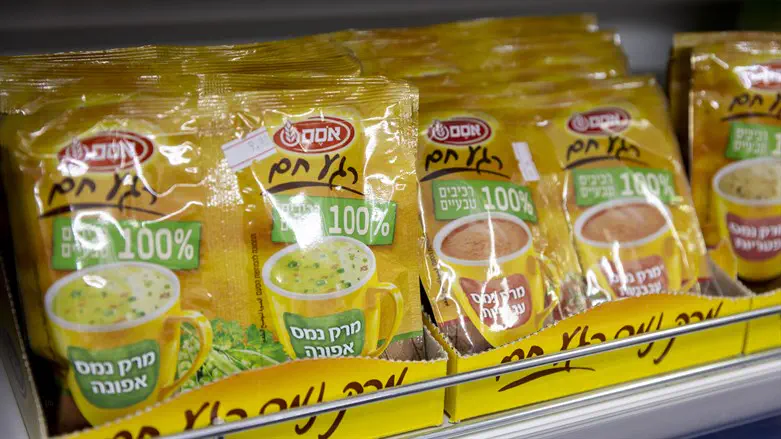 Products from Osem on a shelf in a grocery store in Jerusale
Olivier Fitoussi/Flash90
Osem, one of the largest Israeli food companies, has announced that it will raise prices by an average of 4.75%.
In a statement, Osem said that the affected products are ones which the company "avoided updating prices for in December 2022." The price rise "follows the continued increase in price of raw materials and packaging, including coffee, grains, tomato paste, dairy and its ingredients, sugar, packaging, metal, and more," Osem explained.
The company added that the products which will become more expensive represent just 15% of the company's sales.
Osem noted also the sharp drop in the shekel's worth in comparison to the dollar and euro, emphasizing that this change as well impacts prices.
Included in the price hike are cereals, coffee, Gerber baby food, and others, which will rise in price by 4.7%. Sauces, soup mixes, and pastas will rise in price by 4.5%. Materna products will become 2.6% more expensive.
Furthermore, the company stated that in light of the increase in the price of flour, it will be ceasing production and marketing of all flour-based goods in Israel.
In December 2021, Osem announced that it would raise prices. In response, tens of thousands of consumers shared a post calling for a boycott of the company's pasta products, leading the company to cancel the price hike altogether.