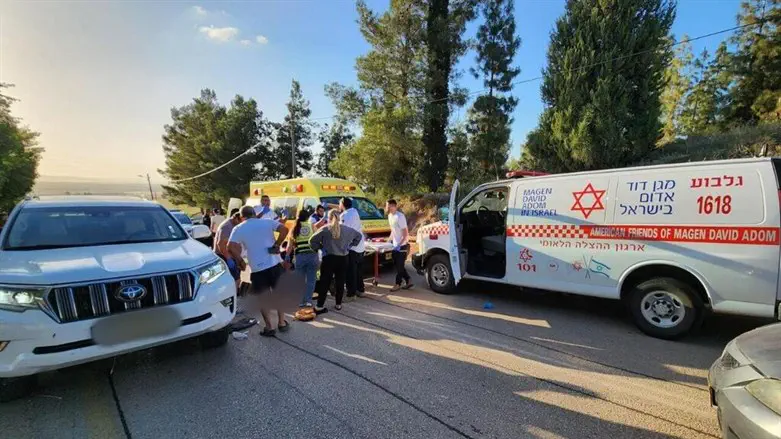 Scene of the shooting
Magen David Adom
A 19-year-old was shot dead Saturday near the entrance of the town of Gan Ner in northern Israel.
The teen, a resident of Kafr Sandala, suffered critical injuries from the fire and was evacuated to Ha'emek Medical Center, where his death was declared.
Police officers arriving at the scene arrested a 32-year-old resident of Gan Ner, who was at the scene of the shooting. The suspect was found to be in possession of a pistol.
Responding to the shooting, hundreds of residents of Sandala arrived at the entrance to Gan Ner. Later, they began rioting, hurling rocks at police officers, who responded with stun grenades. A female officer suffered light injuries to her head from one of the rocks. The entrance to Gan Ner is now closed off. Dozens of protesters are now blocking the Wadi Ara road nearby in protest against the shooting.
Meanwhile, the Hamas terror organization responded to the shooting, confirming the identity of the teen as Diar Omri: "Omri was shot dead by a Zionist settler," a spokesperson said. "We will respond harshly to the crimes of the Occupation and to its path."
MK Ahmad Tibi (Hadash-Ta'al) tweeted: "Diar Omri, 19 years old from Sandala, was shot in the back by a resident of Gan Ner, following a quarrel. A horrific crime. It hurts. Why?"
In another tweet, Tibi blamed the shooting on Police Commissioner Kobi Shabtai and National Security Minister Itamar Ben-Gvir (Otzma Yehudit): "The horrific murder of Diar Omri of Sandala by a resident of Gan Ner is the responsibility of Ben-Gvir and Police Commissioner Shabtai, who have called on civilians to carry weapons and shoot, and this is what happened: He carried a weapon, fired, and murdered in cold blood."
Tibi also published a photo of Omri, as well as a photo of the suspect with his face blurred out.