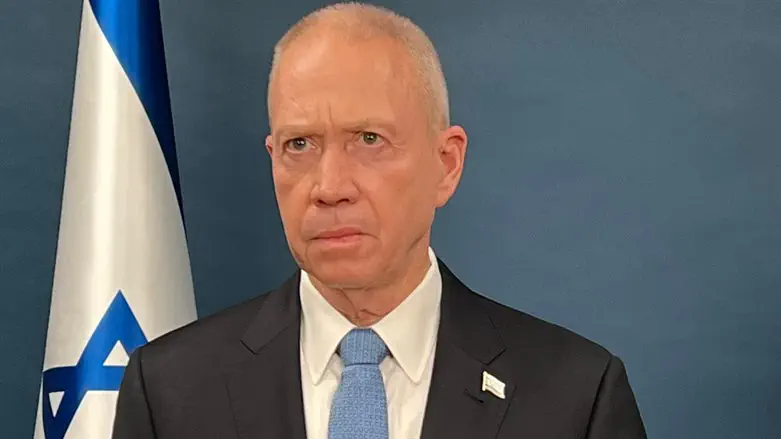 Defense Minister Yoav Gallant
Courtesy
Approximately one month ago, three terrorists from the Lion's Den organization attempted a shooting attack against an IDF guard post. The soldiers stationed there returned fire, killing all three.
Defense Minister Yoav Gallant today ordered the return of all three bodies to the custody of the Palestinian Authority.
The move brought widespread criticism, including from the families of IDF POWs Hadar Goldin and Oron Shaul, who demanded that the bodies be kept as leverage for negotiating to secure the release of their loved ones.
National Security Minister Itamar Ben-Gvir commented: "Defense Minister Gallant's decision to return the bodies of the terrorist members of the Lion's Den terrorist organization, which carried out a large percentage of the recent attacks in the West Bank, is a serious mistake that will cost us dearly."
"This government is a right-wing government and the public did not give us a mandate to return the bodies of terrorists or to refrain from bombing Gaza. It is not too late to lead a powerful and offensive security policy. Otzma Yehudit will continue to be absent from votes until the Israeli government changes direction and begins to uphold the policy for which it was elected," Ben-Gvir declared.
MK Oded Forer (Yisrael Beyteinu) commented: "Just before Shabbat begins, Netanyahu and Ben-Gvir give in again. Not only are they avoiding targeted eliminations, now they are also returning the bodies of terrorists and simply eliminating Israeli deterrence. This evil government is surrendering to terrorism."
MK Yitzchak Kroizer (Otzma Yehudit) commented: "Can't 64 mandates prevent the failure of the failed Defense Minister Yoav Gallant from folding and further debacles? Returning bodies again, surrendering to terrorism again? Just a few days ago the residents of Sderot ran to shelters."
"Gallant's message is you shoot - we surrender. Gallant, we don't have children for unnecessary surrenders. We want a right-wing government."
MK Gideon Sa'ar from National Unity responded to Minister Ben-Gvir: "Even without being in the votes, you are fully responsible. The people are not stupid. Everyone has already caught the bluff."