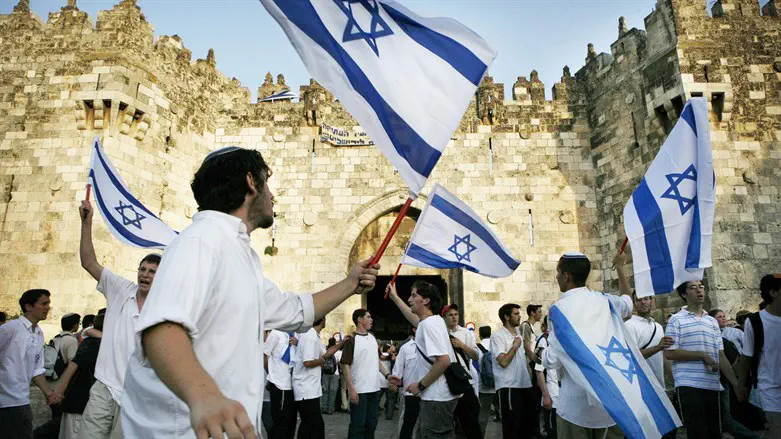 Flag March in the Old City of Jerusalem
Nati Shochat/Flash90
Government ministers have sent a message to Israeli Prime Minister Benjamin Netanyahu demanding that the route of the traditional "Flag March" on Jerusalem Day remain unchanged, Israel Hayom reported.
There are currently no security warnings regarding the upcoming march, diplomatic sources have said.
The Flag March takes marchers along the length of Jerusalem, marking the unification of the city during the Six Day War. Two years ago, Operation Guardian of the Walls erupted on Jerusalem Day, as rockets were fired towards Israel from Gaza and Arab Israelis held violent riots in mixed cities.
Prior to the violence, there had been discussions regarding changing the Flag March's route. Last year, the march took place as customary, and passed quietly.
National Security Minister Itamar Ben-Gvir (Otzma Yehudit) has told his men that, "The police will ensure that the march takes place along its route, and not like happened in previous years."
Israel Hayom quoted sources in the defense system as saying that, "The march is an event which is known ahead of time every year as something which has the potential to explode, and therefore we prepare for it ahead of time, while paying attention to the various potential scenarios."
Diplomatic sources added that they hope that "the day which is a holiday for the city will pass quietly, and destructive sources will not inflame the entire region."