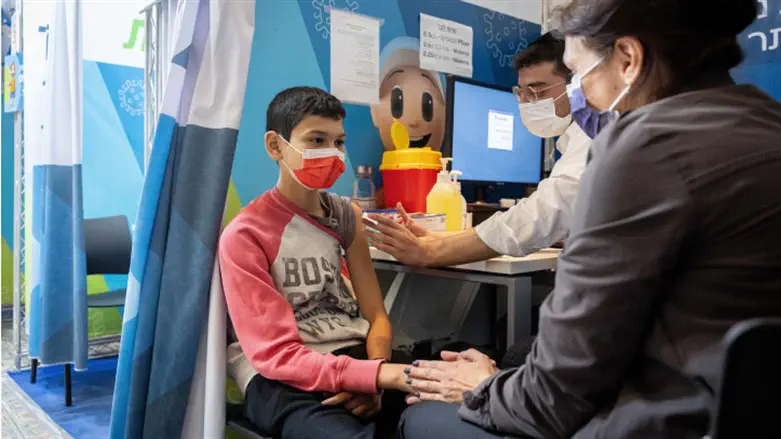 Boy receives first dose of the COVID vaccine
Yonatan Sindel/Flash90
The British Conservative Party has expelled an MP who compared COVID-19 vaccines to the Holocaust in January.
Andrew Bridgen had the party whip removed after he posted a vaccine efficacy chart to Twitter, tweeting that the vaccines "are causing serious harm."
He wrote: "As one consultant cardiologist said to me this is the biggest crime against humanity since the Holocaust."
According to Campaign Against Antisemitism, a Conservative spokesperson said: "Mr. Bridgen was expelled from the Conservative Party on 12 April following the recommendation of a disciplinary panel. He has 28 days from this date to appeal."
UK Prime Minister Rishi Sunak condemned "those types of comments in the strongest possible terms."
"Obviously, it is utterly unacceptable to make linkages and use language like that, and I'm determined that the scourge of antisemitism is eradicated," Sunak said. "It has absolutely no place in our society. And I know that the previous few years have been challenging for the Jewish community, and I never want them to experience anything like that ever again."
Reacting to Bridgen's tweet at the time, John Mann, the government's independent antisemitism adviser, said, "There is no possibility that Bridgen can be allowed to stand at the next election. He cannot claim that he didn't realize the level of offence that his remarks cause."
Bridgen charged in a statement that he was expelled from the party under "false pretenses" and alleged that it stemmed form corruption.
"My expulsion from the Conservative Party under false pretenses only confirms the culture of corruption, collusion and cover-ups which plagues our political system," he said. "I have been a vocal critic of the vaccine rollout and the party have been sure to make an example of me."
He added that he "will continue to serve my constituents as I was elected to do and intend to stand again at the next election."