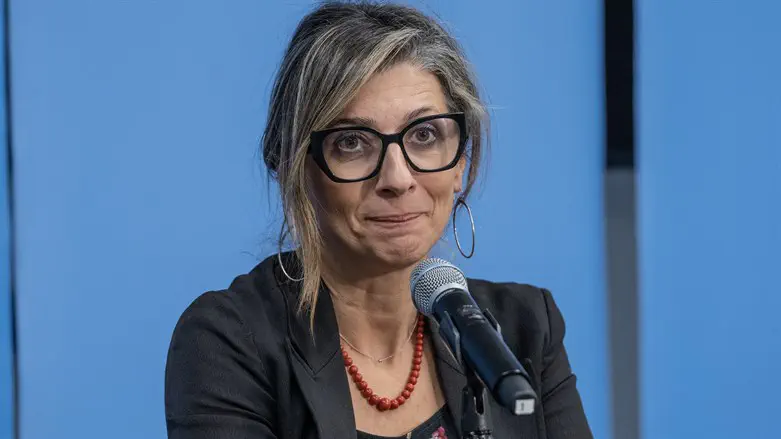 Francesca Albanese
Reuters/Lev Radin/Sipa USA
UN Special Rapporteur Francesca Albanese, who has been dogged by antisemitism scandals in recent months over past statements on social media in which she invoked the antisemitic canard about the 'Jewish Lobby' and statements denying Israel's right to self-defense and asserting the Palestinian Arabs' right to commit violence in the name of self-determination, participated in an anti-Israel panel hosted by the British 'Jewish Network for Palestine' organization which was held on Israel's 75th Independence Day (Wednesday).
The panel, which was hosted by anti-Israel author Haim Bresheeth-Zabner, featured several other well-known anti-Israel academics, including Ilan Pappe and Nur Masalha.
In her remarks at the panel, Albanese accused the Jewish state of the crimes of "apartheid" and "ethnic cleansing," and at first referred to the Jewish communities beyond the 1949 armistice lines in Jerusalem, Judea, and Samaria not as "settlements" as these communities are often called in the international media, but as "colonies."
"Let me be clear. From a legal point of view, colonies are war crimes. They are a grave breach of the Fourth Geneva Convention. They are also prosecutable under the Rome Statute," she claimed.
Albanese called for entities to cut ties with Israel, especially financial ties, to pressure the Jewish State to end all settlement activities.
She further claimed that a "machine has been unleashed" by Israel and its supporters "against human rights defenders with an unprecedented violence. This is not a new phenomenon, but it has intensified with criminalization of renowned human rights organizations labeled as terrorists."
Albanese called for "moving away from the narrative of conflict and the call for negotiated solution," in light of the power imbalance between Israel and the Palestinian Authority and the Hamas-ruled Gaza Strip.
She also criticized the United Nations itself for not being anti-Israel enough, claiming that the UN "in a way has condoned this reality, has normalized this reality by not addressing the illegality of the occupation, but just operating within the realm of it as if it was business as usual and addressing its symptoms, for example, through humanitarian aid, proposing development under occupation."
"There is no possibility to negotiate between an oppressor and an oppressed, and this is why the UN has a responsibility," Albanese declared.
When asked about the possibility of Israel committing a genocide against the Palestinian Arabs, she replied: "This is something I intend to look into very carefully. There is the question of intent that needs to be absolutely explored, investigated, and documented. So I know that many use the term genocide to already qualify what's happening. I personally refrain from it because I want to be absolutely sure of the argument when I make it. And I will get there. I will get there, because I see what's happening and there is a level of persecution and combination of violations that speak to genocide."
Albanese did state that under international law, Jewish settlers keep their status as civilians despite her blanket assertion that all Jews who live over the Green Line are taking part in criminal activity, as they are not actively taking part in hostilities, while she continued to defend the Palestinian Arabs' right to engage in "resistance." She also asserted that the status of Israel within the 1949 lines as a member state of the United Nations is different from the status of the so-called "occupied territories."
"It's within Palestine, no question, there should be reparation, there should be a restitution, the return of the refugees. And this can be and should be fixed. But this is very different from the status of what remains of historical Palestine, because if Israel has sovereignty in the land that has been recognized in 19 — that it had in 1948/'49, this is not the case in the rest, in the Gaza Strip, the West Bank, and East Jerusalem. It's occupied, so there is no possibility to recognize Israeli sovereignty over that. It's a crime," she said.
During the nearly two-hour panel, the participants made numerous anti-Israel statements. Ilan Pappe called for the UN to readopt the infamous 1975 resolution calling Zionism a form of racism, which was rescinded in 1991, while Nur Masalha claimed that the original Balfour Declaration in 1917 and its subsequent adoption by the League of Nations in the 1920s was illegal and immoral.
"International law, it hasn't really served us, international law, beginning with the League of Nations 1922. The League of Nations endorsed the Balfour Declaration, so the Balfour Declaration became part of international law, which is a criminal act. Crimes in Palestine. The Israeli state was created by international law and by the United Nations. Again, we Palestinians say it's occupied territory. It's all occupied. Nazareth's occupied," Masalha claimed.
Albanese's participation in the panel drew further condemnation from human rights experts.
Professor Anne Bayefsky, Director of the Touro Institute on Human Rights and the Holocaust, and president of Human Rights Voices, told Israel National News - Arutz Sheva: "Albanese is a dangerous peddler of antisemitism, more dangerous because the UN has given her the trappings, resources, and title of an authority figure and an expert on human rights. In her short time in office, she has distinguished herself in her unbridled hatred of the Jewish state."
Bayefsky noted that "the mandate of the UN Special Rapporteur on Israel – first created thirty years ago – deliberately excludes human rights violations by Palestinians against Jews in Israel. It's biased by definition. It is also the only UN special rapporteur job that has no end date and never needs renewal, because its long-term goal is to demonize and destroy the Jewish state. It's discriminatory by definition. Hence, one after another the people chosen for this job over the years have been pathological Israel-haters. That's why the UN's top 'human rights' body selected them. They are the inverse of independent and objective."
"So when Albanese makes wild antisemitic terror-inciting statements she does so because she believes she has no accountability for her hate speech. And so far she has been proved right. At the highest levels the UN is doing nothing to remove her from office, and the Biden administration continues to make excuses for joining and financing the Human Rights Council that appointed her, legitimizes her, and keeps her going.
"The result is that with each passing day, as she travels around the globe, she becomes more and more extreme. Now she openly says Israel is guilty of the crime of apartheid – which is simply another incarnation of the antisemitic claim that Jewish self-determination/Zionism is racism. And now she makes the vile claim that Palestinians are victims of persecution 'that speaks to genocide.' At every step Albanese turns reality on its head. The Palestinian Authority openly declares it seeks a Judenrein 'Palestine,' and wiping Israel off the map – genocide – is the stated goal of Hamas.
"Albanese began her presentation by telling her audience, 'I have to respect UN rules and principles.' That's true – so long as the UN rules and principles are the promotion of terrorism and antisemitism," Professor Bayefsky said.