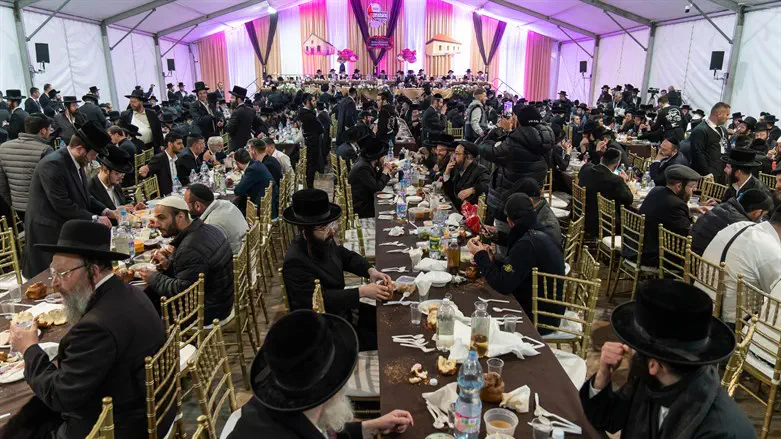 Orthodox Jews gather for a meal in Bodrogkeresztur, Hungary, during annual pilgrimage
Barnabas Horvath
As many as 50,000 Jews traveled to a Hungarian town for the anniversary of a noted rabbi's death this week, marking significant growth for the annual pilgrimage and generating what the town's mayor called "culture shock" for non-Jewish locals.
Since the fall of communism in 1989, Jewish pilgrims have been visiting Bodrogkeresztur, known as Kerestir in Yiddish, in April, timed to the death of Rabbi Yeshaya Steiner, a hasidic rabbi known as Reb Shayele whom some believe had special powers. The number of pilgrims has swelled in recent years, thanks in part to efforts by the rabbi's descendants to elevate his profile.
The estimated 50,000 visitors this year — other estimates placed the number lower, but still in the tens of thousands — would be over 60 times the number of the town's year-round population. It also would likely set a new record for a Jewish pilgrimage in Europe, outpacing even the famed gatherings in Uman, Ukraine, at the grave of Rabbi Nachman of Breslov.
"It's all a bit surreal," Istvan Rozgonyi, mayor of the town in northeast Hungary, told Agence France-Presse this week. "Christians and Jews co-existed peacefully here for centuries, but the sudden influx in the last decade of so many foreign Jews has been a culture shock for some locals."
In fact, Kerestir has not had a significant Jewish population since 1944, when the town's Jews were murdered in the Holocaust. Some of Reb Shayale's family members were among them, though the rabbi himself died in 1925 and others in his family, including a brother and some of his children, had previously made their way to the United States, where his brother's Staten Island grave is a pilgrimage site of its own.
Reb Shayele is considered in some hasidic circles to be a "miracle rabbi" who had supernatural powers of healing. He also famously advised a follower about how to rid his granary of mice, leading to the practice of affixing a picture of the "Mouser Rabbi" in one's home to keep mice away.
"People call me every day to ask if I have the power from my grandfather," Israel Grosz, the rabbi's grandson and oldest living relative, told AFP.
Grosz lives in the United States. He believes, as many of the pilgrims do, that access to Reb Shayele's powers is strongest at his grave. Many of the Jewish pilgrims to Kerestir, mostly but not exclusively men who gather in the town a few days before the anniversary of his death, go to the grave to ask for help with personal issues or for blessings. They visit his former house and the local Jewish cemetery where he is buried.
In recent decades, family members have worked to build up a Jewish infrastructure in Kerestir. They purchased the family's home and erected a permanent tent over Reb Shayele's grave, then bought the building next door to serve as a guesthouse. During the pilgrimage season, they add more tents to accommodate visitors to the grave and run shuttles to and from the airport in Budapest. Dozens of buildings in the town of about 1,100 have been purchased by people affiliated with the pilgrimage.
United Hatzalah, a Jewish emergency service based in Israel, sent a delegation to Kerestir. It treated well over 100 people this week, mostly for minor injuries and illnesses, it said in a press release.
The influx briefly changes the town — police had to close it off for three days so fleets of buses full of Jewish pilgrims from across the globe could proceed through its narrow streets — and has induced tensions among locals who are divided on whether the pilgrimage is good for Bodrogkeresztur.
"They should go back to where they came from. I do not care that they used to live here," one woman told the Christian Science Monitor in early 2020, arguing that Jews were driving up housing costs by buying buildings to serve as guesthouses. Another villager disagreed, telling the outlet, "They have the right to be here as their ancestors were unjustly taken away and killed in 1944."
Orthodox Jews make other yearly pilgrimages to the burial sites of prominent rabbis across Europe, including in Turkey and elsewhere in Hungary. The most prominent of the pilgrimage sites is Uman, where the Rosh Hashanah event is known as a raucous affair. It took place last year despite the dangers of the Russia-Ukraine war and against the wishes of authorities, with a lower-than-usual number of visitors.
The highest estimate for Uman attendance was 40,000, in 2018. This week's Kerestir pilgrimage could have topped that, according to its organizers.
"We are proud that more people than ever came to Hungary this year to commemorate my grandfather's memory and his influential teachings," Menachem Mendel Rubin, who organized the event from his home in the United States, said in a press release. He thanked local police and the Hungarian government for their support.
As large as this year's pilgrimage was, it's unlikely to be the largest: Organizers expect record crowds in two years, for the 100th anniversary of Reb Shayele's death.