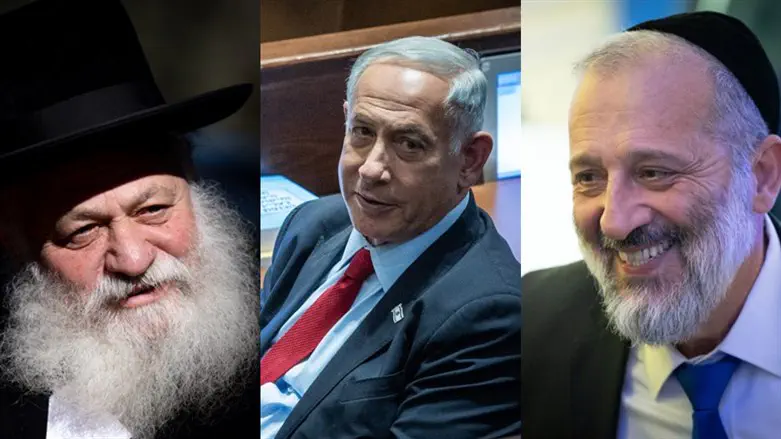 L-R: Yitzhak Goldknopf, Benjamin Netanyahu, and Aryeh Deri
Yonatan Sindel/Flash90
Senior figures in Israel's coalition have claimed that in addition to the Basic Law: Torah Learning, the Draft Law also cannot be passed in the near future, Kan Reshet Bet reported Monday morning.
According to the report, the reason presented is the general atmosphere in Israel. According to the sources, the legislation should be delayed at least by another few months.
A meeting of the coalition heads had been planned for Sunday night, and was scheduled to include a proposal to delay work on the law, but the meeting was canceled and replaced by a smaller meeting focused on Khan al-Ahmar.
Shas, apparently, is willing to accept the development, in light of the understanding that the political and public situation is volatile. United Torah Judaism did not immediately reject the request, though they clarified that they will need to bring the matter to their Torah Sages for a decision.
The debate currently focuses on whether the Draft Law should be completely removed from the agenda in the next few months, or if it should pass its first reading, without being further advanced.
The other parties in the coalition have already explained to the haredi parties that Basic Law: Torah Learning cannot be passed in the coming months, even though the haredi parties' coalition agreements include an agreement that the law will pass its final vote before the State Budget is passed, and together with the passing of the Draft Law.