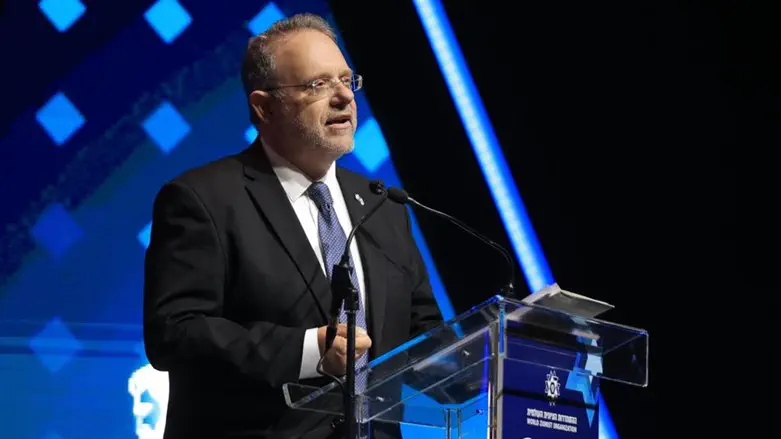 WZO chairman Hagoel, who opposes the motion, speaks at the World Zionist Congress
Oz Schechter
The 38th World Zionist Congress will vote Thursday on a proposed resolution to condemn the Israeli government's judicial reform plan, according to a report in Israel Hayom.
The resolution is opposed by World Zionist Organization Chairman Yaakov Hagoel, who, at the start of the Congress, asked to refrain from controversy.
Several factions in the Congress submitted proposals for matters on the current agenda: the judicial reform plan and a demand to set the status of the Law of Return, which members of the government wish to change.
The convention, which is held once every five years (this year, exceptionally, it is being held after only three years), is a special meeting of hundreds of Zionist Congress members from around the globe. While the Congress refrained from discussing Israeli domestic issues in the past, it would appear that this year, the deep controversy that has swept the nation in recent months has managed to permeate. Several members of the World Zionist Organization dissented from Chairman Hagoel and announced that they would not stand by regarding the reform. Overnight, the right-wing factions attempted to enlist a majority against the proposed resolution that calls to shelve the legislation.
The proposed resolution that was submitted by the "Arzenu" faction's Leah Mulstein states: "Because we are proud to celebrate 75 years of independence for the state of Israel, which is the only democracy in the Middle East, and because the only branch that can balance power in the state of Israel is the judicial branch. Therefore, the Zionist Congress has decided to remind the Israeli government of world Jewry's deep commitment to the state of Israel as a democratic state and the threat to the connection between world Jewry and Israel, which stems from the government's plan to weaken the judicial system. The government's plan will weaken the democratic character of the state of Israel, remove the checks and balances on the government's power, and threaten the rights of all minorities in Israel."