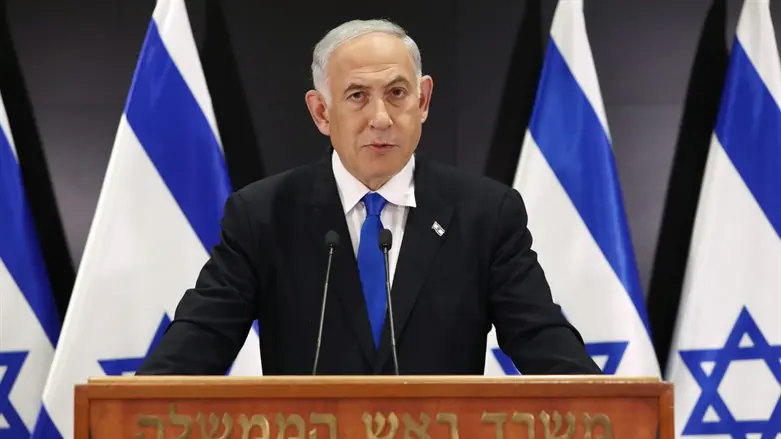 Benjamin Netanyahu
Gideon Markowicz/TPS
Prime Minister Benjamin Netanyahu warned the Saudi leadership of the dangers of reigniting ties with Iran following a China-brokered deal last month, while urging greater US engagement in the Middle East region.
"Those who partner with Iran partner with misery. Look at Lebanon, look at Yemen, look at Syria, look at Iraq," Netanyahu told CNBC in an interview on Wednesday, stressing that "95% of the problems in the Middle East emanate from Iran."
Addressing the Saudi-Iran deal, in which the two countries agreed to reopen their diplomatic missions, Netanyahu told CNBC, "I think it has probably a lot more to do with the desire to de-escalate or even eliminate the long-standing conflict in Yemen. I think that Saudi Arabia, the leadership there, has no illusions about who are their adversaries, and who are their friends."
Netanyahu denied awareness of any Chinese initiative to intercede to end the conflict between Israelis and Palestinian Arabs. China's Foreign Minister, Qin Gang, said this week his country is ready to help facilitate peace talks between the two sides.
"I'm not aware of any specific offer of this kind," Netanyahu told CNBC. "Look, we respect China, we deal with China a great deal. But we also know we have an indispensable alliance with our great friend the United States."
Netanyahu also commented on a potential normalization of ties between Israel and Saudi Arabia. Israel has been for years rumored to have behind-the-scenes ties with Saudi Arabia, but the Saudis have vehemently denied those rumors.
Saudi officials have repeatedly said that a Palestinian state with eastern Jerusalem as its capital is a prerequisite for Saudi Arabia normalizing ties with Israel.
"We'd like very much to have peace with Saudi Arabia. Because I think it would be another huge quantum leap for peace. In many ways it would end the Arab-Israeli conflict," Netanyahu told CNBC on Wednesday, noting this could pave the path for further diplomacy with Palestinian Arabs.
"We would like to expand the circle of peace to its totality," he added.
Narrowing down to just the potential of a relationship with Saudi Arabia, Netanyahu said, "I think the sky's the limit. And even the sky's not the limit, because there are many opportunities in space as well."
On the US role in the Middle East, Netanyahu told CNBC, "I think that not only Israel but I think in many ways most of the … countries in the Middle East would welcome an American, not merely the American involvement in the Middle East which has been ongoing, but a greater engagement of America in the Middle East."
"I think it's very important for the United States to be very clear about its commitment and engagement in the Middle East," added the Prime Minister.