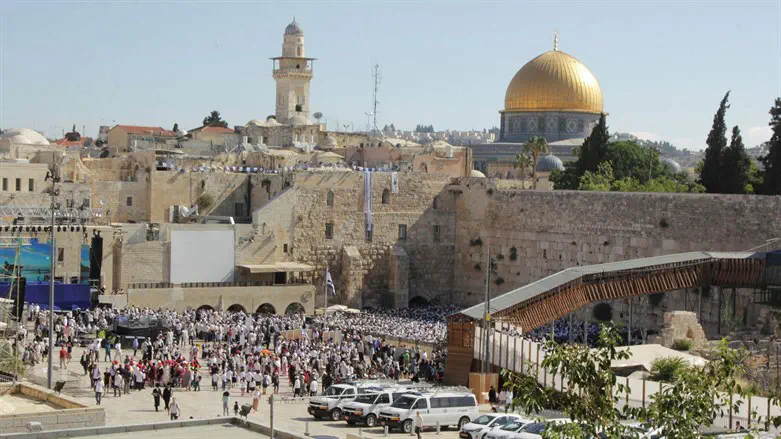 Western wall and the Temple Mount
Mati Amar/TPS
Rabbi Shmuel Rabinowitz, the Rabbi of the Western Wall, issued a statement today (Thursday) following the violence on the Temple Mount over the Passover holiday which concluded in Israel yesterday (Wednesday).
"The seven days of Passover are over. The Jewish holiday of freedom is celebrated together. As every year, Jerusalem was at the center of Passover celebrations. Tens of thousands of pilgrims visited the city and the Western Wall Plaza, especially for the moving Birkat Kohanim, the Priestly Blessing ceremony held at the Western Wall with a huge gathering every year," Rabbi Rabinowitz said.
"After difficult and bitter weeks during which we buried our dead who were murdered in brutal and terrible ways – no calls for revenge were heard at the Western Wall. No violent marches emanated from the Western Wall. Not for one moment did it dawn on any of the pilgrims to turn the holy holiday into a day of bloodshed.
"During the same hours when we gathered to pray, inflamed youth, incited by clerics, gathered in the plaza above us, accumulated firearms and other weapons and tried to harm the police officers and Jews who ascended to the Temple Mount, regardless of my firm opinion, which represents the position of the Chief Rabbinate throughout the ages, that it is absolutely forbidden to enter the Temple Mount. During those hours when we prayed, 'Establish peace, well-being and blessing, favor, loving-kindness and compassion upon us,' calls of incitement were heard on the Temple Mount praising those who murdered men, women, and children in cold blood.
"As long as the Muslim community at large does not condemn and banish the violent and extremist minority, with its leaders and preachers, out of their congregations, their violent behavior will continue to tarnish the entire Muslim religion. The world should realize - there has never been a time in Jerusalem's history with such religious tolerance for all believers like this period of Israeli rule. There has been no other nation that respected the right of every believer to pray according to his faith like the Jewish people and has made it possible for members of all faiths to worship freely, something of great importance, especially this coming weekend, for Christians and Muslims alike," Rabbi Rabinowitz concluded.