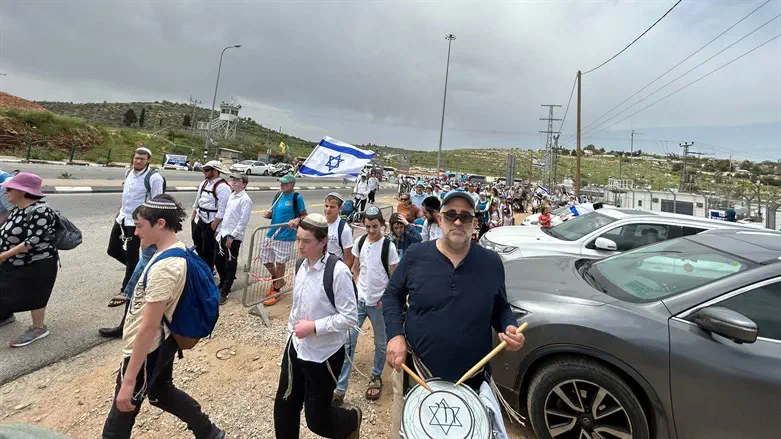 March to Evyatar on Monday
Yehonatan Gottlieb
Thousands of people, including at least eight government ministers and 20 Knesset members, are participating in a march this Monday afternoon to the community of Evyatar in Samaria.
National Security Minister Itamar Ben-Gvir and Finance Minister Bezalel Smotrich have joined the march. Police have closed Route 505 between the Tapuah and Alon Junctions to all vehicular traffic until six o'clock p.m. for the march, and the march's organizers have arranged for shuttle buses to transport participants to the starting point. Those arriving in private vehicles will be able to park near Tapuah, as space permits.
Samaria Regional Council head Yossi Dagan arrived at Evyatar on Sunday to oversee the erection of platforms for the main event to be held at the conclusion of the march. Dagan called on the government to "enable Evyatar's residents to return to their homes and to legalize the town, as they promised." The march was announced at short notice, almost immediately after media sources reported that Prime Minister Benjamin Netanyahu had decided to postpone the legalization of Evyatar and the eviction of the residents of Khan al-Akhmar to after the month of Ramadan.
"The government has yet to free itself of the shackles of foreign pressures," responded Nachala Movement head Daniella Weiss, speaking on Kan Reshet Bet. "Maybe this march will be a form of therapy for the government, releasing it from the dictates of the United States and Europe. One of the downsides of having a right-wing government is that we don't want to overthrow it," she noted. "Who, on the Right, wants to return to the dark days of a government with Arabs and left-wingers?"
Meanwhile, as terrorist attacks escalate and Israel faces mounting threats on several borders, Defense Minister Yoav Gallant has ordered three battalions to be sent to reinforce the security fence, and has also ordered the deployment of IDF soldiers to boost the numbers of security forces patrolling cities in the center of the country.
Interviewed on Kan Reshet Bet, Yisrael Beytenu leader Avigdor Liberman called the measures a "pathetic joke" and claimed that orders had been given by high-ups in the political echelon "not to hurt anyone. That's one of the reasons why I resigned [from a former government headed by Netanyahu]," he added. "Netanyahu used all available means to prevent any attacks from being made against the heads of the terrorist organizations in Gaza."