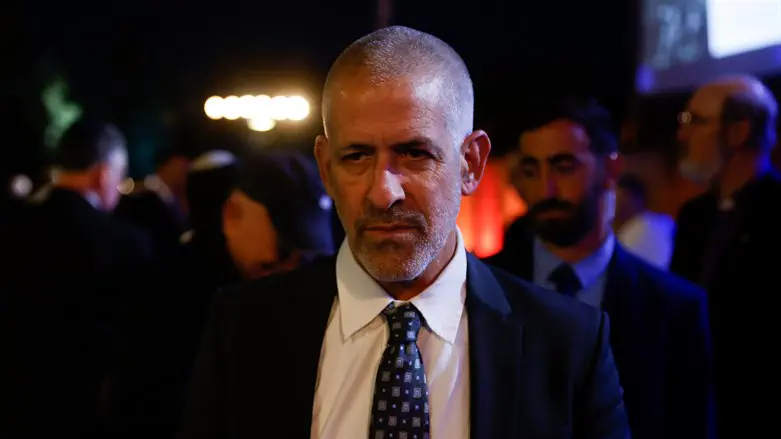 ISA Chief Ronen Bar
Olivier Fitoussi/Flash90
Israel Security Agency (Shin Bet) Chief Ronen Bar discussed Israel's security situation during a memorial service for Israel's sixth president, Haim Herzog.
"We are in the midst of a complex and sensitive period security-wise. The scope of the terror alerts is unprecedented. The Shin Bet and its partners foil terror attacks day and night, fronts near and far," said Bar.
He added, "I wouldn't suggest our enemies test the nation of Israel's coherence and determination against all threats. They will find a unified Israeli defense establishment that knows that it is also its citizens' armor and a powerful iron fist that knows how to hit anyone who looks to harm it."
At the beginning of his address, the Shin Bet Chief spoke about the divide in Israeli society. "If the former president were alive today, he would be immensely troubled by the language, the exclusion, the schism, the ease at which people defame others online, an ease that can bring a disaster which we won't be able to get out of.
The first Herzog, who left a torn and divided nation in Ireland, would not expect that the second Herzog would have to turn every stone and every clause, so such a thing won't happen in Israel as well. I assume that his abilities to encourage dialogue and tolerance would help us try to open a door in this realm.
Despite all that was written and said to the people of Israel, 'there are more things in common than different.' When looking at the Israel Security Agency, I think he would be happy to see that the agency has worked for the past 21 years under the Shin Bet Law, the law that allows the Shin Bet to protect the state's citizens and their security and their rights. Along with this, it limits and muzzles the power of the citizens. But beyond the law, the sixth president would feel safe knowing that since that incident, the Shin Bet has worked under a clear set of morals, representing the organization's compass, and its needle always points in one direction. Even now, that needle won't move, not to the right or left."
Bar concluded: "As a member of my team wrote to me that during navigation exercises, there was a reason that we would keep the compass in a bag near our heart. Just like during difficult navigations in the field, so too during this difficult navigation, we won't determine the destination, but we will use our moral compass to show us the way."