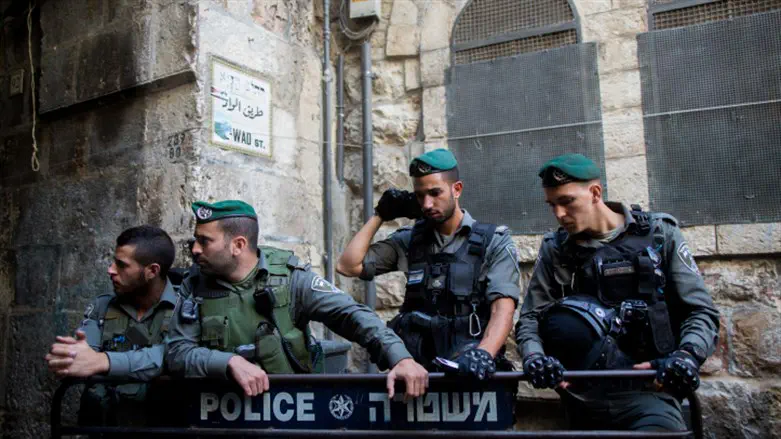 police in Jerusalem's Old City
Yonatan Sindel/Flash90
A Jewish man who was attacked by an Arab in Jerusalem during Operation Guardian of the Walls in May 2021 has filed a lawsuit against his attacker in the Jerusalem Magistrate's Court. The plaintiff is seeking NIS 120,000 in damages.
The attacker was convicted of an assault causing injury and malicious damage with a racial motive and was sentenced to seven months of community service along with being ordered to pay NIS 4,000 in compensation to the victim.
Attorney Ofir Steiner of the Honenu legal organization, who represents the victim, said that "the plaintiff, a haredi-looking resident of Jerusalem, made his way, during the month of May 2021, from the direction of Hagai Street to the Bab Hutta neighborhood in Jerusalem, north of the Temple Mount. When the plaintiff arrived at the entrance to the Bāb Ḥuṭṭa neighborhood, he met a group of minority, including the defendant. The defendant turned to the plaintiff and warned in Hebrew 'Don't pass through an Arab neighborhood', and added 'No, you won't pass.' The plaintiff, realizing that he would not be able to pass, turned back, with his back to the defendant. So, the defendant hit him - with a racial motive - on his left shoulder. As a result of the blow, the plaintiff's glasses and hat fell to the ground. The plaintiff turned towards the defendant, and bent down to pick up his hat and glasses. Then the defendant did it again, hitting him one more time, in the back. The plaintiff managed to pick up his hat, and turned to leave the place, but the defendant followed him. The defendant hit the plaintiff again, on the head, so that his hat fell to the ground a second time. Everything, as mentioned, was racially motivated. The plaintiff fled the scene. He had a scratch on his left cheek and his eyeglasses were damaged. The defendant attacked the plaintiff, causing him injury and damaging his property, all dut to a racial motive."
Attorney Steiner says that "this is an ugly attack on a haredi-looking Jew, humiliating him in a public manner, just because he is Jewish, and all within the capital of the State of Israel. The civil lawsuit complements the criminal procedure, and allows the victim of the crime to be compensated financially for the violent assailant. This serves to strengthen deterrence against those who seek to harm us."