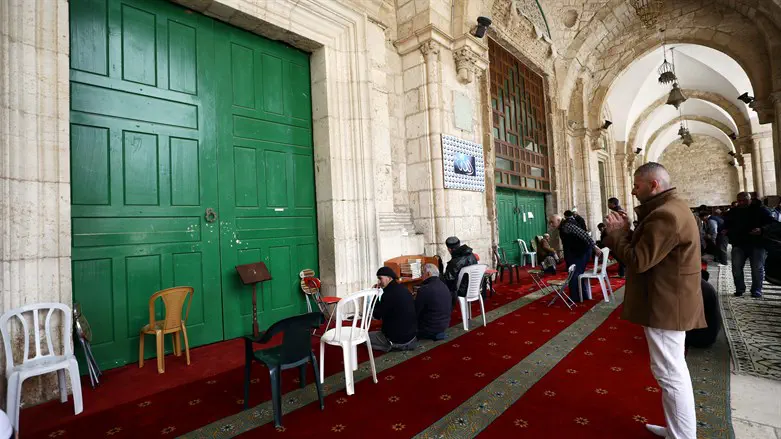 Al-Aqsa Mosque
Reuters
Sheikh Kamal Khatib, the deputy leader of the northern branch of the Islamic Movement and currently a senior member of the High Follow‑Up Committee for Arab Citizens of Israel, calls on the Muslim public to strengthen the connection to the Al-Aqsa Mosque following the elimination of a terrorist who grabbed a gun and shot at police officers in the Old City of Jerusalem on Friday night.
"20 bullets were fired by Ben Gvir's policemen into the body of the martyr Dr. Muhammad al-Assibi, even though one bullet was enough to carry out their abominable and heart-wrenching mission, because they were at a distance of zero from him while he was trying to free a Muslim woman from their unclean hands," Khatib charged.
"When one of us is murdered in cold blood at the entrance to Al-Aqsa Mosque, does this mean that when one of our sons or one of our daughters or we arrive at Al-Aqsa Mosque to pray there, we must write a will in accordance with Islamic law, since he may be murdered like Dr. Muhammad, a resident of the village of Hura, who will not return to his family members except with as a shaheed (martyr -ed.) who was murdered?" he added.
"No, and a million times no, what happened to the shaheed Muhammad will not be a reason for us to avoid or hesitate about traveling to Al-Aqsa Mosque or staying there, but on the contrary, it will cause us to gather and spend more time at the Al-Aqsa Mosque," declared Khatib.
He concluded his words by saying, "If it is required to write our will in accordance with Islamic law, then they will find nothing but the following in it: Do not leave Al-Aqsa (Mosque) alone. Always look towards Al-Aqsa (Mosque). Al-Aqsa Mosque is a deposit on your neck. Al-Aqsa is our mosque and not your temple. We are on the way to the redemption which is near and wait for good tidings."
Khatib was arrested several years ago and charged with inciting violence, publishing words of praise and encouraging acts of terrorism and identifying with a terrorist organization.
The Israel Security Agency (Shin Bet) said after the arrest said that Khatib was using his public status to stir up the rioters on the Temple Mount and around the country, despite the fact that he had been warned several times.
Khatib was later released conditional on a number of clauses including: a ban on conducting interviews, speeches or sermons; no Internet access; prohibition of entry into the territory of Kafr Kanna for 45 days and prohibition of participation in an event with more than 15 people.