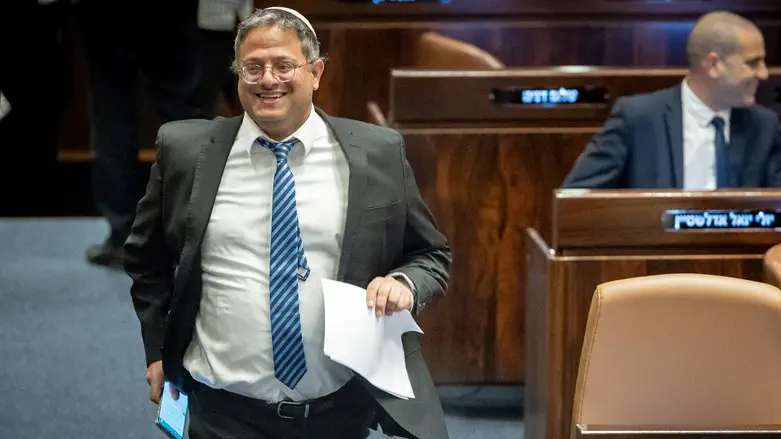 Itamar Ben-Gvir
Yonatan Sindel/Flash90
On Sunday, the Cabinet will approve National Security Minister Itamar Ben-Gvir's proposal to create a civilian National Guard.
The proposal states that "the Israel National Guard will be used as a skilled and trained special force to handle, among other things, various emergency scenarios, nationalist crime, the fight against terrorism, as well as to strengthen governance in areas where this is required, within the framework of the roles currently held by the Israel Police in these areas."
According to the proposed resolution, a dedicated committee will formulate a recommendation for the powers of the national guard, its duties and examine the transfer of units from the Border Police to its responsibility, within 60 days.
The National Guard will have an initial budget of NIS 1 billion.
Minister Ben-Gvir said of the proposal: "A National Guard is a basic critical need for the State of Israel, without which we will not be able to protect the security of our citizens in order to fight terrorism, the phenomenon of protection, nationalist crime and restore governance to the cities of Israel."
Ben-Gvir and Prime Minister Benjamin Netanyahu agreed on the formation of a National Guard under the authority of the National Security Minister in exchange for Ben-Gvir agreeing to support the freezing of the government's judicial reform legislation under the Knesset summer session.
The organizers of the recent antigovernment protests called for new demonstrations to oppose the creation of a National Guard under Ben-Gvir's authority.
"In the negotiations for the stability of the settler government coalition, Ben-Gvir managed to extort from Netanyahu the establishment of a private and dangerous army that will harm mainly the Palestinians, but also every disadvantaged community - and all of us," the organizers stated.
"We warn of the danger of the National Guard and insist on showing solidarity with everyone who lives here," the left-wing movement added. "We will not agree that in exchange for freezing the legislation of the regime coup, a Kahanist militia will be established to serve the racist vision of Ben-Gvir."