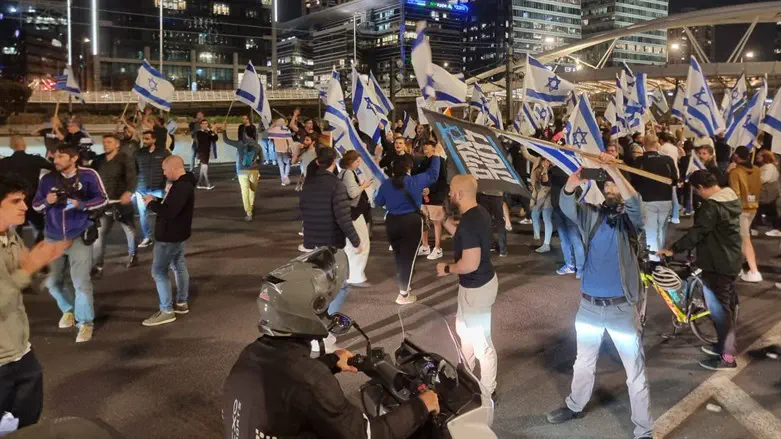 Protesters in Tel Aviv on Sunday night
Protest organizers spokesperson
As protests against the government's judicial reform package intensify and the country's president once again calls for the legislation to be halted, the head of the Jewish Agency, Maj. Gen. (res.) Doron Almog has called for "unity" and for the legislation to be stalled.
"Israel is in an unprecedented state of national emergency," he wrote on Twitter. "An intensifying social rift, and a growing security threat from around us. Our people's unity is more important than any legislation. Such legislation should come to an immediate halt.
"We must stand as one nation for Israel's 75th year of independence as a Jewish, democratic, free and liberal state," he added.
According to several sources, Prime Minister Netanyahu is poised to announce just such a halt, as pressure mounts on him to do so. His defense attorney, Boaz Ben Tzur, has apparently told him that he will not be able to continue representing him in his criminal trial (Case 4000) unless the legislation is halted. It also appears that a general strike is about to be announced, with Histadrut head Arnon Bar-David having "snapped" after hearing that Netanyahu had dismissed Defense Minister Yoav Gallant.
Despite Netanyahu having stated that Gallant was removed from his position due to his "weak and ineffectual" response to the growing phenomenon of refusal to report for military service, the general perception is that Gallant was removed due to his openly stated opposition to advancing the reform legislation, prompting thousands of protesters to take to the streets on Sunday night.