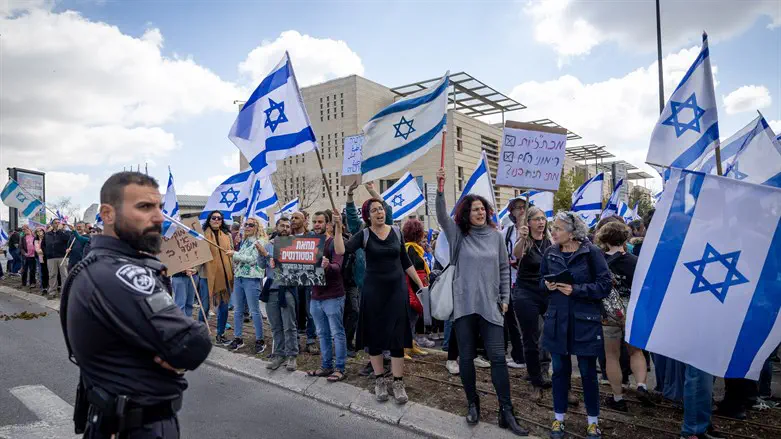 Students protest judicial reform
Yonatan Sindel/Flash 90
Following a special meeting held on Sunday night by the heads of the universities in Israel, it was decided that the research institutions in Israel will halt classes starting on Monday morning, in the wake of the dismissal of Defense Minister Yoav Gallant and the continuation of the legislation of the judicial reform.
"We, the heads of Israel's research universities, presidents, rectors and administrations, will stop studies in all of Israel's research universities starting tomorrow morning, against the background of the continuation of the legislative process that undermines the foundations of Israeli democracy and endangers its continued existence," said a statement published by the heads of the universities.
Professor Daniel Chamovitz, President of Ben-Gurion University of the Negev, said, "There are moments in the life of a nation when there is no place for considerations and interests, but only the good of the state and the good of the people. We have chosen the dramatic step of suspending classes in all universities, in the hope that this will lead to a halt in the descent down the steep slope and that all our elected officials will sit down, talk and create an agreed upon line of action. We have one people, one country and only one shared future."
A student in Bar Illan University told Israel National News, "I'm fine with the time off, but it does make me angry that politics is imposed on us and of course it's completely on our backs: We won't be reimbursed the tuition fees and supplementary classes will be at our expense. I have a double course tomorrow because the lecturer couldn't teach it last semester, meaning that one class that is canceled is doubled."
Following the announcement, a long list of colleges decided to join the universities, among them Bezalel, the Max Stern Yezreel Valley College, Ruppin Academic Center, Tel-Hai Academic College, the College of Management Academic Studies and Shenkar College of Engineering, Design and Art.
Meanwhile, the Histadrut Labor Federation is also expected to gather on Monday and announce that it is joining the protest against the judicial reform and intends to shut down the economy. The heads of the local government have announced that they will also gather at the same time and may join the shutdown announced by the Histadrut.