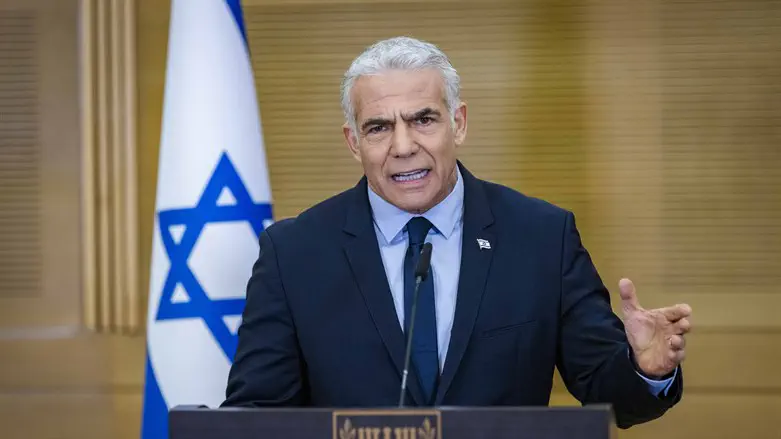 Yair Lapid
Olivier Fitoussi/Flash90
Opposition leader Yair Lapid accused the government of destroying Israel's alliance with the US in its efforts to pass its judicial reforms.
"They both destroy everything and blame others. The government keeps saying 'we were elected and not you' - then take care of the economy, security, take care of the fact that the nation is being torn in two," Lapid said in an interview with Channel 12 News.
He rejected the coalition's proposal to soften the judicial reform bills. "It is not true that there was a softening [of the legislation]. This week I sat in the Knesset, there was the Incapacity Law, the Deri 2 Law, the Donations Law - which is simply the Bribery Law."
When asked about the changes to the judicial selection committee, which selects new justices for the Supreme Court, Lapid responded: "A government that directly appoints the judges, especially if they have to judge the Prime Minister, is not a democratic government. Politicians should not appoint close associates as judges. Tomorrow they can appoint Yaakov Bardugo as the President of the Supreme Court."
"If the law passes - I believe the Supreme Court will reject it. A government that says it will not obey the court cannot be obeyed, because it is breaking all of the tools of democracy. I don't believe this is being discussed," he added.
When asked about his refusal to negotiate a compromise on the judicial reforms, Lapid said: "I accepted the president's outline. They don't accept the results of the elections. They are the government and they have to deal with the fact that the price of matzahs has risen by 20% and the price of vegetables by 16%. They ignore the things that are their job. Instead of dismantling democracy from the ground up, they should deal with the economy and with the terrorist attacks. Instead, all they are doing is changing the judicial selection committee."
Lapid claimed that relations between Israel and the US are at a historic low and rejected claims that the American government interferes in Israeli politics. "To anyone who says that America should not intervene... when an Apache plane flew over their houses in the settlements, they don't ask, 'Why did they suddenly intervene?' The Americans have earned the right to say what they think."
Lapid expressed his opinion that "Israel is no longer America's closest ally. The Americans say they have no shared values with this government. It affects every aspect of US-Israel relations - their attention and their willingness to leave their comfort zone for Israeli interests - they will not do it for the most extreme government in the country's history."