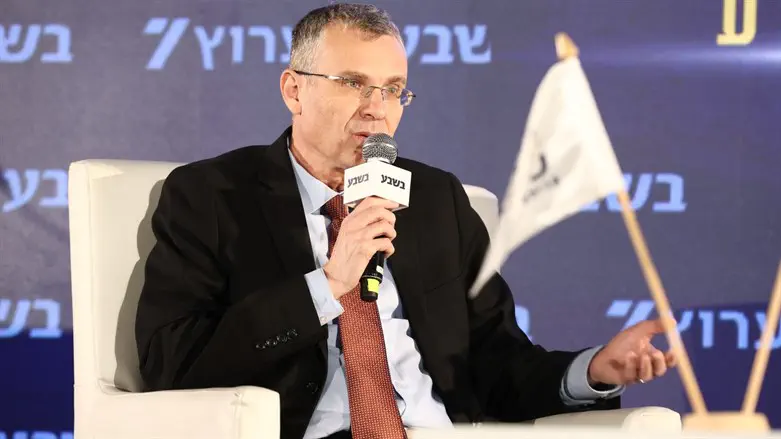 Yariv Levin
Haim Twito
Justice Minister Yariv Levin said on Monday evening that if the Supreme Court strikes down the laws related to the judicial reform, "that would be crossing every red line and we will not accept it."
Levin added, "There is no justification for a disqualification by the Supreme Court, the change we made is intended to prevent any claim of a constitutional crisis." He also said that the other sections of the reform will be promoted when the Knesset returns from its recess.
"We will pass the Law on the Judicial Selection Committee by the end of the current Knesset session before Passover; after the recess we will continue and advance the legislation of the other components of the reform," Levin said in an interview on Channel 14.
Opposition leader MK Yair Lapid said in response, "That's it, the masks have been removed. The gun is on the table. The real Prime Minister Yariv Levin is putting us into absolute chaos and a constitutional crisis from which we will be unable to return. If the Minister of Justice calls on the government to disobey the law, why should the citizens of Israel obey the government?"
MK Gideon Sa'ar said in response to Levin's remarks, "Minister Levin's threat to the court, that rulings which constitute a judicial review of the laws of the coup will not be respected, crosses a red line. There has never been such a thing, that a Minister of Justice announces in advance that he will not respect a court ruling that he does not like. The exact opposite of Menachem Begin's path. A government that does not respect a court ruling will cease to be legitimate."
Earlier on Monday evening, the Likud faction voted to approve the coalition's proposed changes to the Judicial Selection Committee, which chooses the justices of the Supreme Court.
Likud said after the vote that "the faction voted overwhelmingly in favor of the law that restores the balance in the Judicial Selection Committee and eliminates the undemocratic situation in which the judges appoint themselves."
"This system whereby public representatives elect judges is accepted in almost all democracies in the world. The claim that ending the system through which judges appoint themselves is the end of democracy is baseless. The law does not allow the coalition or the opposition to take over the court, but guarantees that there will be diversity in the composition of the judges," the faction said.