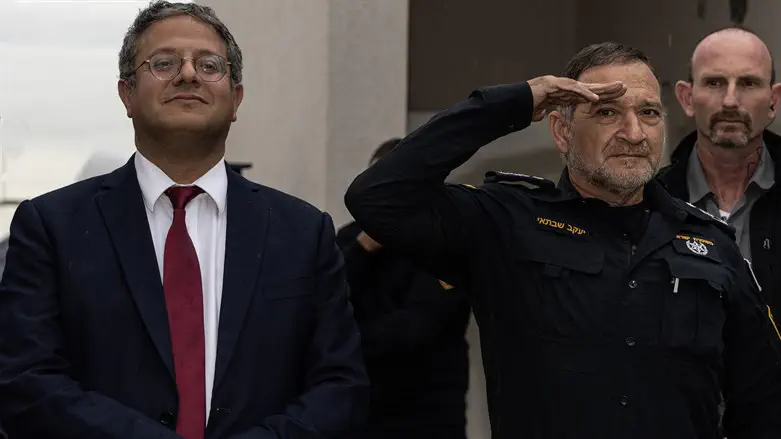 Ben-Gvir and Shabtai
Flash90
National Security Minister Itamar Ben-Gvir conveyed to Police Commissioner Yaakov Shabtai his policy for the Islamic holy month of Ramadan in mixed Arab and Jewish cities and towns in Israel.
Israel National News - Arutz Sheva has obtained a copy of Minister Ben-Gvir's directive, in which he wrote to the commissioner: "It is necessary to ensure a large and significant presence of police officers on the streets of the cities, in order to demonstrate a significant presence."
In addition, Ben-Gvir called the commissioner to "act to increase the manpower at the police stations and at critical points in the cities involved and in the cities adjacent to them, mainly to ensure the full staffing of all patrol vehicles in all three shifts."
"The required staffing arrangements must be completed so that a larger number of detainees than usual can be handled," the minister wrote to the commissioner. "It is necessary to ensure a significant increase in the presence of traffic police vehicles and motorcycles that will function in the mixed cities and on the entrance and exit roads to these cities."
Ben-Gvir stated that the implementation of this policy and the according preparation of the police "will allow an immediate response to the expected events, providing security and a sense of security to the citizens in these cities, both Jews and Arabs."
The minister's instructions mainly concern the city of Lod, but also the other cities which saw extensive anti-Jewish violence during Operation Guardian of the Walls in May 2021.