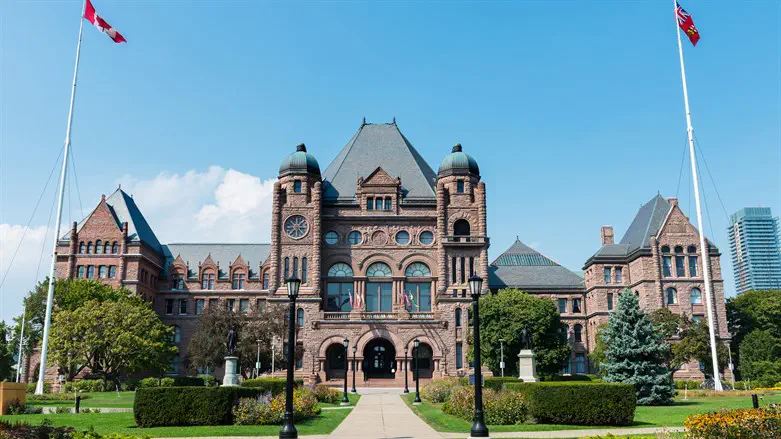 Ontario parliament
iStock
A candidate for the ONDP, Ontario's opposition party, who easily won a by-election in Hamilton, Ontario on Thursday, faces accusations of antisemitism from Jewish groups due to her support for BDS and her extreme views on Israel.
Prior to her victory, B'nai Brith had urged the ONDP, the second largest political party in the province, to drop Sarah Jama as its candidate in the March 16 byelection, which she reportedly won by 54 percent this week, describing her as a "radical activist" who is associated with anti-Israel groups.
B'nai Brith had pointed out that not only is Jama an outspoken supporter of the BDS movement, but that her "demonizing of the Jewish state will only lead to more hate aimed at Jews in Ontario."
They told the Toronto Sun that the NDP should have withdrawn her candidacy over her "vile denunciations of the Jewish State."
But the NDP refused to remove Jama, who it described as a "disability justice advocate," claiming that "Jama has been a very strong advocate for human rights and against antisemitism and any form of racism"
B'nai Brith highlighted that Jama "has called for the creation of a Palestinian state from the 'river to the sea,' obliterating Israel from the map."
"Ms. Jama's views may reflect the party militants in Hamilton Centre who chose her to replace [former party leader Andrea] Horwath, but they certainly do not reflect what the people of Ontario and Canada think. In fact, Ms. Jama does not reflect the NDP's own position," B'nai Brith wrote in a letter to ONDP leader Marit Stiles, referring to the party's recent support for the use of the IHRA definition and affirmation of Israel's right to exist, both stated by previous leader Andrew Horwath.
Jama's past troubling statements about Israel were also called into question by Friends of Simon Wiesenthal Center (FSWC) and the Hamilton Jewish Federation.
According to FSWC, Jama said in a since deleted May 2021 tweet, that "she had cancelled her contract to speak at a Halifax-based disability rights organization called reachAbility after learning its 'CEO is defending the Israeli occupation.' FSWC has since spoken with the reachAbility CEO, who firmly denied having ever made such a statement."
They added: "Jama has since deleted the tweet but screenshots of it and other disturbing activity emerged on social media last week."
They also noted that a video circulating on Twitter from 2021 shows Jama at an anti-Israel gathering "spouting absurd, baseless conspiracy theories about Hamilton Police, claiming they're 'protecting Nazism' and Israel, saying 'It's not true" when people say "It's fine that Israel is illegitimate because Netanyahu isn't there… because the same people will continue to fund the killing of people here, locally, and globally."
FSWC CEO Michael Levitt said: "To publicly boycott Jewish Canadians for having a connection to or showing support for Israel is a form of antisemitism and utterly unacceptable, as are the wild conspiratorial accusations Jama is peddling in the disturbing video."
He added: "Claims by the NDP that it stands against antisemitism must be more than just words. The decision by both Stiles and Jama to stay silent publicly on these important issues is deafening and sends a clear message to the Jewish community."
According to the Toronto Sun, while at Hamilton's McMaster University, Jama also participated in and organized rallies denouncing Israel.
(Israel National News' North American desk is keeping you updated until the start of Shabbat in New York. The time posted automatically on all Israel National News articles, however, is Israeli time.)