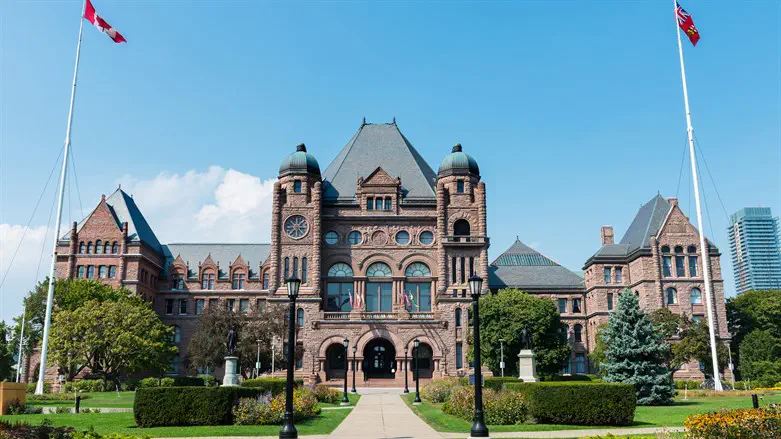 Ontario parliament
iStock
Ontario's New Democratic Party (ONDP), the province's official opposition, was urged by B'nai Brith Canada to withdraw a candidate in an upcoming byelection it described as a "radical activist" who is associated with anti-Israel groups.
B'nai Brith pointed out that Sarah Jama, who is running for a seat in the March 16 provincial byelection in the riding of Hamilton Centre, is a supporter of the boycott, divestment, sanctions (BDS) movement.
B'nai Brith's League for Human Rights contacted NPD leader Marit Stiles, decrying Jama's candidacy.
"We realize that, with the byelection imminent and slated for March 16, withdrawing Ms. Jama's candidacy would mean that the ONDP would likely lose the seat," B'nai Brith Canada CEO Michael Mostyn said. "Nonetheless, Ms. Stiles needs to do the principled thing. There should be no room in the Legislature for a member whose demonizing of the Jewish state will only lead to more hate aimed at Jews in Ontario."
Noting that in June 2022, then-ONDP leader Andrea Horwath responded to a B'nai Brith election survey with information that the party supported the use of the IHRA definition of antisemitism and recognized Israel's right to exist, B'nai Brith questioned whether the party had a problem dealing with antisemitism in its ranks.
B'nai Brith highlighted the fact that in November 2022, ONDP MPP Joel Harden said in an interview, speaking about Israel, that he has "asked many questions of Jewish neighbors here about how much longer we should put up with this."
"If I were to name … the single greatest threat, the single greatest origin of violence in the Middle East, it is unquestionably the state of Israel and the way in which they feel absolutely no shame in defying international law, doing whatever they want," he said.
Harden also defended antisemitic rhetoric from Palestinian Arabs and anti-Israel activists, stating he "can also understand, from the pro-Palestinian standpoint, how the barbarity and the scale of viciousness can lead someone to strike out with intemperate hateful language."
After a public outcry, and outrage from Jewish groups, Harden issued an apology: "I would like to apologize unreservedly to the Jewish community for comments I made during an interview with the Ottawa Forum on Israel Palestine. I spoke in a way that perpetrated an antisemitic stereotype towards Jewish neighbours. I regret my choice of words and sincerely apologize to the Jewish community."
"The Harden disgrace, which caused a great deal of hurt in the Jewish community, is one of a number of incidents in recent years that have led Jews to question whether the ONDP takes antisemitism as seriously as it has claimed it does," B'nai Brith said.
They charged that Jama's candidacy is another instance of the NDP's inability to tackle antisemitism within the party.
"Ms. Jama's candidacy reinforces the perception that there is an antisemitism problem in the ONDP and an unwillingness to seriously confront it," said Marvin Rotrand, National Director of the League for Human Rights. "It doesn't take much research to discover Ms. Jama's animus toward the Jewish state."