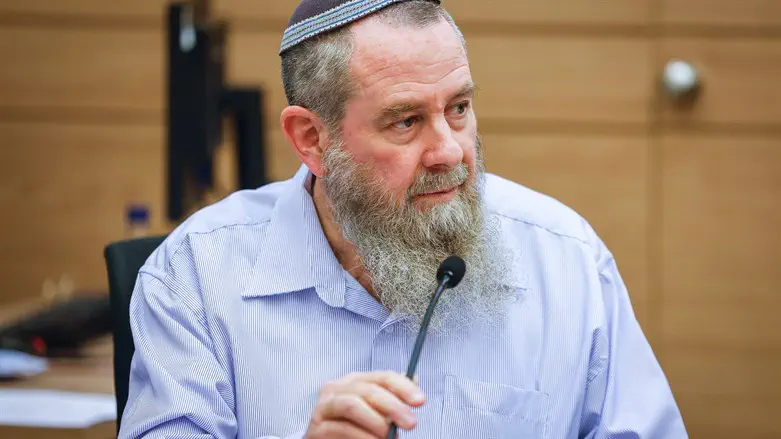 Noam party head MK Avi Maoz
Olivier Fitoussi/Flash90
Three weeks ago, MK Avi Maoz, head of the Noam party, resigned from his position as deputy minister in the Prime Minister's Office in protest against Prime Minister Benjamin Netanyahu's failure to implement parts of the coalition agreements.
Now he has written to acting Health Minister Yoav Ben Tzur (Shas), demanding to know why the original version of Magen David Adom (MDA) blood donation forms has not been restored. Failure to implement this move was one of the reasons cited by Maoz in his letter of resignation, along with other failures to implement parts of the coalition agreement signed between Likud and Noam prior to the government's formation in November.
"Over a year ago, MDA's blood bank decided to alter the text used on its blood donation forms, replacing 'Country of birth of father' and 'Country of birth of mother' with 'Country of birth of parent 1' and 'Country of birth of parent 2,'" Maoz wrote to Ben Tzur.
"Following this, and apparently due to public protest, the blood bank decided to entirely delete the section relating to the countries of origin of the donor's parents, even though Prof. Shner, the deputy director of MDA's National Blood Services, admitted to the Knesset Health Committee that this data is still needed for health reasons.
"As is well known, there is a serious crisis in MDA's blood bank, and every day, MDA sends out appeals to potential donors, trying to persuade them to donate blood," Maoz continued. "There are thousands of people who would like to donate blood; all they are asking is that they be allowed to use the original blood donation forms in which the words 'father' and 'mother' appear. I would like to ask: Why are you not taking action to enable these people to donate blood to MDA and use the original forms? Taking this step would enable MDA to surmount the blood donations crisis."
A spokesman for Magen David Adom responded: "Historically, it was very important for Magen David Adom to know the ethnic backgrounds of parents for blood screening. With modern technology available to type blood, this is no longer necessary. There is no longer any reference to parents on our medical questionnaire and there has not been for some time. Our only agenda is saving lives in Israel."