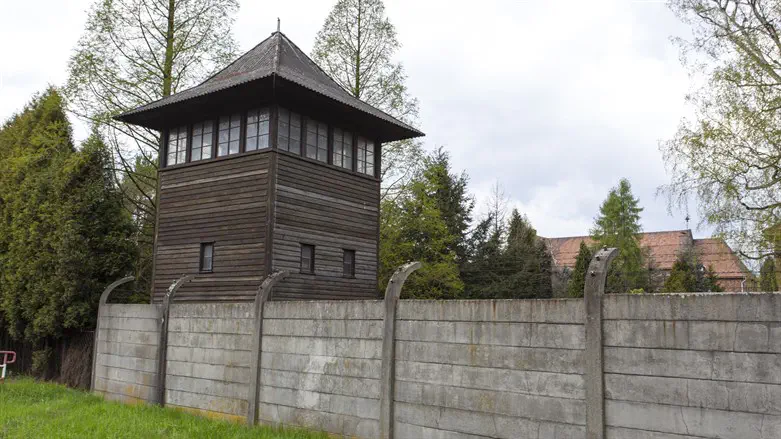 Auschwitz watchtower
iStock
British Chief Rabbi Ephraim Mirvis led a service this week marking 80 years since German Jewish soccer player Julius Hirsch was deported to Auschwitz, where he was murdered.
The ceremony occurred before a Champions League match between England's Chelsea and Germany's Borussia Dortmund at Stamford Bridge.
Rabbi Mirvis said a prayer of remembrance for Hirsch and lit a yahrzeit candle.
"This was a very moving ceremony, remembering Julius Hirsch and other German footballers who were murdered at Auschwitz," he told the UK Jewish News.
"Chelsea and Dortmund have come together to remember the past for the sake of the future, and the statement they are making is enormous. The more we articulate our denouncing of antisemitism, of all forms of xenophobia and racism, the more it is going to be heard."
Hirsh, who was born in Achern Germany, played with the Karlsruher FV soccer club, helping them win the 1910 German soccer championships. He later played for Germany's national team at the 1912 Summer Olympics in Stockholm, Sweden. Subsequently, he played for SpVgg Fürth, winning the 1914 German soccer championship.
When he joined the national team at 18-years-old in 1911, he became the first Jewish player on the squad. Hirsch set a record when he scored four goals for the national team in their match against the Netherlands in 1912. When World War I erupted, he enlisted and served for four years in the German Army, receiving the Iron Cross. He retired from playing soccer in 1925.
On April 10, 1933 he left his position as a coach with Karlsruher FV after learning that all Southern German teams were banning Jewish members. He was deported to Auschwitz on March 1, 1943. His exact date of death was not recorded but he was declared dead by a German court in 1945.
In 2020, Hirsch's memory was honored by being one of three soccer players sent to Nazi death camps depicted on a 12x7 meter mural by an Israeli artist commemorating Holocaust Remembrance Day.