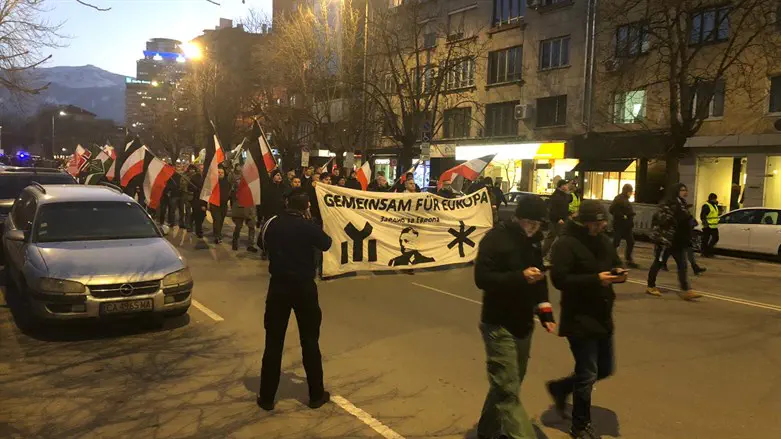 Neo-Nazi march in Bulgaria
World Jewish Congress
Authorities in Bulgaria on Saturday banned an annual torch-lit march in downtown Sofia in honor of a late general who led the pro-Nazi Union of Bulgarian National Legions during World War II, The Associated Press reported.
Hours before the event, the country's chief prosecutor called on Sofia's mayor and the interior minister "to ensure the preservation of public order and protection of the rights of the public ahead of the Lukov March."
The event has been condemned by human rights groups, political parties, and foreign embassies, which criticized the march organizers for promoting racism, xenophobia, and antisemitism.
Held annually since 2003, the march over the years has attracted nationalist admirers of Gen. Hristo Lukov, who supported Germany during World War II and was killed by an anti-fascist resistance movement.
The general served as war minister from 1935 to 1938 and led the pro-Nazi Germany Union of Bulgarian Legions from 1942 until his death in 1943.
Organizers deny that Lukov was antisemitic or that they are neo-fascists, insisting that the general was a war hero and a true Bulgarian patriot.
The European Jewish Congress (EJC) had denounced this year's march and urged all levels of government to enact a ban.
"We call on local and national authorities in Bulgaria to ban the upcoming planned neo-Nazi Lukov March in Sofia, as they did in 2021," EJC said. "This horrendous event promotes and venerates racism and antisemitism. It should not be tolerated in a European capital."
The Embassy of Israel in Bulgaria urged Bulgarian authorities in a Twitter message to prohibit the Lukov March from happening.
Last February, four Bulgarian political parties denounced the annual neo-Nazi march.
In 2018, the World Jewish Congress presented then-Bulgarian Prime Minister Borisov with a petition signed by 175,000 people worldwide requesting that the Bulgarian government issue an administrative ban on the extremist rally.