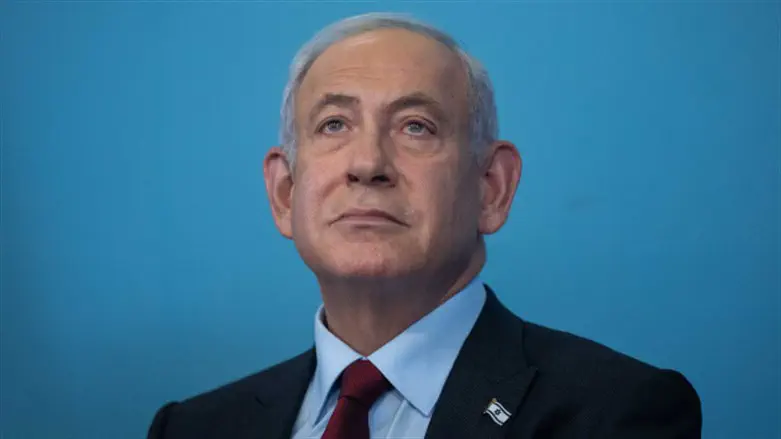 Benjamin Netanyahu
Yonatan Sindel/Flash90
Prime Minister Benjamin Netanyahu issued another call for dialogue and negotiation on the government's planned judicial reforms Tuesday evening.
"Citizens of Israel, this is the time to talk. I hear the voices of the people. I hear those who are praising and I also hear those who are concerned. When there are disagreements among us, it is possible and necessary to talk in order to reach agreements or at least reduce the disagreements among us. It is within reach," Netanyahu said.
He added: "I believe that we can do this but it requires one basic thing from everyone. It requires leadership and national responsibility. I am obliged to give all the backing and support necessary in order to reach agreements but to do so it is necessary to stand up and talk. Unfortunately, as of now, nobody on the other side has stood up."
"Then I am standing up and I am calling out from here: Come and let's talk – here and now – with neither pre-conditions nor excuses, so that together we might achieve broad agreement for the good of all Israeli citizens, and for the good of our country," Netanyahu concluded.
Opposition leader Yair Lapid responded to the Prime Minister's statement and accused Netanyahu of lying.
"Mr. Netanyahu. This is not the time for lies and spin. Instead of making statements to the media, call the President and let him know that you are stopping all legislative processes and starting negotiations within the framework of the President's proposal," Lapid said.
"Citizens of Israel, I don't have a nice way to say this: Prime Minister Netanyahu is lying. We have been trying to hold talks with them for weeks now. The President implored them to stop the legislation and hold talks. The Americans asked them to stop the legislation and hold talks, and the entire people of Israel are asking the government to prevent a terrible rupture within the people, to stop running amok and to hold talks. Instead, they are running forward with this hasty, irresponsible and anti-democratic legislation that seriously harms Israel's economy and security," the opposition leader added.